Referendum preamble an 'insult' says Lord Elis-Thomas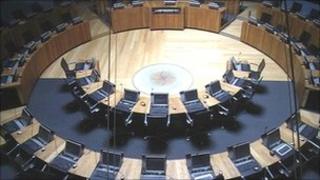 The proposed explanatory preamble on the ballot paper for the referendum on further Welsh powers would be an insult to voters, the presiding officer says.
Lord Dafydd Elis-Thomas welcomed an Electoral Commission report on the draft referendum question saying its wording was difficult to understand.
He criticised the need to include "a kind of thesis on the British constitution" before the question.
"That preamble in my view shouldn't appear on the ballot paper," he said.
On Thursday it was revealed that the intended ballot paper for the referendum would begin with a lengthy explanation of Wales' current devolution settlement, before asking the referendum question itself.
While 'road-testing' this with the public the commission found many struggled to understand the question, and were not clear what they were being asked to vote on.
Speaking to BBC Radio Wales, Lord Elis-Thomas said neither the question nor the preamble were right, and compared the ballot paper to a school examination paper.
"It's like going into an exam and first of all you've got to read this and then you answer the question," he said.
"I think that's an insult to voters quite honestly."
Lord Elis-Thomas said the commission's report showed the value of having a body which specialises in making democracy work, and insisted that the central referendum issue was not a complicated one.
Electoral Commission Report on the proposed referendum question
[896.63KB]
"I don't think it's difficult," he told BBC Radio Wales
"The question is whether the National Assembly should be able to make laws in the areas for which it has responsibility already without consulting the Westminster parliament.
"That's not a very complicated question in my view, and if it was asked in that obvious way then I think it's capable of an answer one way or another.
"There's been far too much emphasis on writing a kind of thesis on the British constitution as part of the question and not on making the question clear and intelligible and therefore communicable."
Campaign
The presiding officer said the framers of the referendum ballot paper had a good model on which to base it - the one proposed for the referendum on whether the UK should introduce the alternative vote election system.
"The AV question... is much more complicated if we're talking about constitutional complexity because it's something new," he said.
"And that hasn't got a preamble. That's a very serious question. A very clear question."
In its report the Electoral Commission suggested that Welsh households should be leafletted as part of a campaign to explain the issue to the electorate.
Referring to this, Lord Elis-Thomas explained that the assembly had already drafted material for use throughout the summer at prominent public events.