£31m funding for hospital buildings in Wales announced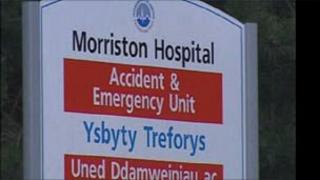 An investment of £31m in hospital building projects will save the Welsh NHS £12.5m each year, it has been claimed.
The assembly government argue "spend to save" funding will improve services and patient care.
The British Medical Association (BMA) has welcomed the money.
But its Welsh chairman Dr Andrew Dearden said it would have a greater impact if spent to hire more doctors and nurses.
The government says the £31m will fund capital projects across Wales.
For example, Abertawe Bro Morganwg University Health Board is centralising emergency and complex surgery at Morriston Hospital, Swansea, including the creation of two additional theatres, ward modifications and a medical and surgical assessment unit to benefit accident and emergency services.
Aneurin Bevan Health Board is centralising pain management and chronic fatigue services at County Hospital, Pontypool for more effective service delivery.
Meanwhile, in north Wales, Betsi Cadwaladr University Health Board is refurbishing accident and emergency at Ysbyty Glan Clwyd and Ysbyty Gwynedd to co-locate out of hours services and accommodate increased activity.
'Improving services'
Health Minister Edwina Hart said: "The successful bids from health boards will contribute to improving services by working more efficiently and improving patient flows.
"Centralising complex services in one location, as with Morriston for example, means that patients will receive higher quality, safer, more specialist-led care, as well as saving the NHS money.
"Over the last four years NHS Wales has already saved around £850 million and the foundations are in place to deliver greater savings and to continue to raise the quality of patient care."
But BMA Wales' chairman suggested the £31 funding might have been better spent on hundreds more GPs and nurses.
Dr Andrew Dearden said: "You've got £31m which they have put into hospitals.
"What could that buy in the community? It could buy over 310 GPs. That would buy 1,000 district nurses.
"We could afford to put two practice nurses in every single practice in Wales for the same amount of money. That's a big staff boost.
"If you put that into the community I bet fewer people would get ill."
Opposition criticism
Conservative health spokesman Andrew RT Davies claimed the £31m announcement would not make a great difference overall as the assembly government was "taking 380-odd million out of the health budget this year."
Mr Davies said: "What's got to be a priority is clinical decisions rather than press releases.
"There are some concerns over this announcement that clinical priority might not be the driving force behind it."
Mr Davies said the £31m had been made available from the same funding source as what he called "the McKinsey report".
A critical analysis of NHS Wales by management consultants McKinsey sparked a political row.
Ms Hart was accused by opposition politicians of deliberately suppressing the consultants' work, which she called a "discussion document" rather than a report.
Mr Davies said: "The 'spend to save' pot of money that this has been funded from also paid for the McKinsey report.
"It's interesting that the minister didn't issue a press release to tell the public about that."