Clegg says 'keep cuts in perspective' on Cardiff visit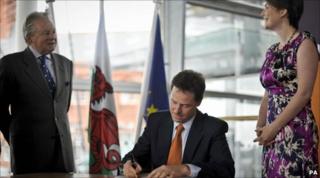 Liberal Democrat leader and Deputy Prime Minister Nick Clegg urged people to keep spending cuts "in perspective" on a visit to the Welsh assembly.
He also said any future decision on whether his party should enter into coalition with Labour in the assembly would be made in Wales.
Mr Clegg was making his first visit to Wales since taking office.
He met First Minister Carwyn Jones and his deputy Ieuan Wyn Jones before Lib Dem and Conservative leaders.
Mr Clegg said the whole country had inherited a "black hole" in the public finances and that spending cuts are needed now to avoid "our children and grandchildren" paying off the interest on today's debts.
He said: "We think we need to sort this out over the next four, five years - do it in as fair a way as possible - and on 20 October we will publish how we think we can do this.
"But people should keep it in perspective.
"Even after all the decisions that we have to take which are difficult ones, we'll still be spending more money at the end of the period than we are now."
Mr Clegg would not be drawn on how cuts would affect a proposed defence academy at St Athan in the Vale of Glamorgan.
But he said any decision about potential coalition arrangements in Wales after next May's assembly elections would be made by Liberal Democrats here.
Nick Clegg said: "The assembly is its own master. Its not for politicians such as myself or Ed Miliband or David Cameron in Westminster to point a long finger at our party leaders here."
Protests
Trade unionists and other members of an organisation called "Cardiff Against the Cuts" are protesting against the Deputy Prime Minister's visit.
October's spending review by the Conservative-Liberal Democrat Westminster coalition government will give details of public spending cuts.
UK Government departments have been told to prepare plans for making savings of between 25% and 40%.
Protestors accuse the Liberal Democrats of betraying "ordinary working class people" who seek political allies to protect them from public sector cuts.
Chair of the Public and Commercial Services Union (PCS) in Wales Katrine Williams said: "Far from offering an alternative to the cuts consensus, Clegg's Liberals are propping up a Tory government ideologically obsessed with cutting public services.
"Ordinary people will remember the role the Liberals have played when they cast their vote at the ballot box next year - a warning to all politicians that they should stand up to defend local communities and the services they rely upon, not compete over who gets to wield the axe."
'Political fix'
Mr Clegg's visit also coincides with a warning from the Electoral Commission that the question the UK government has proposed for a referendum on changes to the Westminster electoral system is too complicated.
Plaid Cymru has called for that referendum, on whether to introduce the "alternative vote" or AV system of voting, to be delayed from its proposed date of 5 May 2010.
They say this would ensure the voting referendum doesn't clash with elections to the Welsh and Northern Irish assemblies and the Scottish Parliament.
Plaid Cymru's Jonathan Edwards MP said the UK government had tried to "ram" the question through the Houses of Parliament to have a quick referendum without giving due time and consideration to the issues being debated.
Mr Edwards said: "What they should be doing is consulting widely, and including the much fairer Single Transferable Vote option on the ballot paper, rather than trying to construct a political fix which largely favours the Liberal Democrats."
Mr Clegg said the Government would look at the watchdog's recommendations.
He said: "They have suggested in their report a slight change to the question we proposed and we will look at it. It's only just come out."