MPs call for "serious look" at Wales Office merger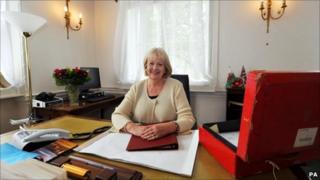 MPs have suggested merging the UK government departments responsible for Wales, Scotland and Northern Ireland.
A report by a Commons committee recommends a "serious look" at the Whitehall arrangements for the three devolved nations.
It comes after a row about the future of the Wales Office in the wake of the Yes vote in the referendum on the assembly's law-making powers.
Downing Street said there were no plans to change the structure.
The suggestion is contained in a report from the Public Administration Select Committee (Pasc) into the wider question of the size of the UK government.
It says the Westminster government appoints too many ministers and should reduce the number by the middle of the parliament.
It recommends "a serious look at the Whitehall departments of state for Scotland, Wales and Northern Ireland".
"Merging together these departments would not involve a major reorganisation given the relatively small size of the three respective offices," it says.
The change would save two Cabinet posts and one junior minister.
The Wales Office employs 60 staff, the Scottish Office 100 and the Northern Ireland Office 110.
At the weekend assembly presiding officer Lord Elis-Thomas said the Wales Office could be wound up.
Following the referendum in favour of direct law-making powers for the assembly, the Wales Office no longer has to handle bids for powers from Cardiff.
Lord Elis-Thomas was met with an angry reaction from Wales Office ministers and shadow Welsh secretary Peter Hain.
'Powerful voice'
The Conservative MP for Aberconwy, Guto Bebb, said Thursday's report was not a response to last week's Welsh referendum, but comes after a decision to cut the number of MPs from 650 to 600.
He said it was important Wales had a strong voice around the Cabinet table, particularly as the UK government embarks on an inquiry into how the assembly is funded.
"But in the long term I think there is a debate to be had as to whether the Welsh voice at the Cabinet table is going to be heard through a Wales Office or whether we could be looking at a Cabinet Secretary responsible for the three devolved nations," he said.
"That is something I'm willing to debate, but I think in the short term the Welsh Office must remain."
Responding to the Pasc report, Mr Hain said the previous Labour government rejected the idea of merging the Wales Office.
"What matters is that Wales has a powerful voice around the Cabinet table with Welsh officials in support," he said.
A Downing Street spokesperson said: "The secretary of states and ministers for the devolved administrations are prime ministerial appointments; they do an important job representing their countries' interests at UK government level and UK government interests in the devolved administrations.
"There are no plans to change this structure."