'Orderly' break-up for Labour and Plaid after coalition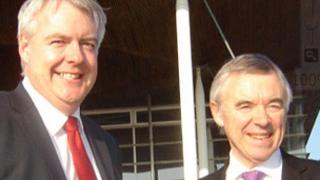 First Minister Carwyn Jones has rejected suggestions of a split in Welsh Labour's top ranks over how to deal with Plaid Cymru.
He said there would be an orderly pre-election break-up between the two parties after four years in coalition.
Labour and Plaid had discussed how to decouple ahead of May's assembly election, Mr Jones said.
He defended his Plaid deputy Ieuan Wyn Jones this week from attacks by shadow Welsh secretary Peter Hain.
In an interview with BBC Wales' Dragon's Eye programme, the first minister was asked whether the process of decoupling between the parties had begun.
"It has been discussed," he said.
"Clearly there needs to be an orderly disengagement, if I can put it that way. We understand that as parties.
"By the end of this month for example we will be into an election period and it will be a normal election campaign, if I can put it that way.
"There are still cabinet meetings taking place of course. There is still a government in place for the next few weeks and that government will remain in place actually over the course of April.
"But of course that will be an election period and that will be an election that is fought in the same way as any other."
'No split'
Earlier this week Labour's shadow Welsh Secretary Mr Hain branded Plaid leader Ieuan Wyn Jones "ineffective".
At a press conference with the Plaid leader on Tuesday, the first minister said he was Welsh Labour's leader and the comments were Mr Hain's own.
"There is no split," he told Dragon's Eye.
"When I read suggestions that the relationship between Peter and myself was very poor I was astounded. They're not. That is something that has never been the case.
"And from our point of view what we want to ensure is that we are able to deliver what I think is an exciting manifesto."
Responding to Mr Hain's description of the deputy first minister, he said: "I don't believe I have any ineffective ministers in my government."
He added: "I have my ministers in my government and they have my confidence, of course they do otherwise they wouldn't be in the government."
He said both parties knew that soon they will be "competing with each other for votes, we will question each other's arguments, we will debate with each other in terms of policies and that's exactly what should happen".