AMs' pay freeze 'will not hit talent', says report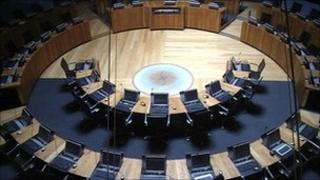 A four-year pay freeze for assembly members will not deter the most talented candidates from standing for the Welsh assembly, says a report.
It confirmed a basic salary of £53,800 for the next four years, putting AMs in the top 1.7% of earners in Wales, with those holding offices earning more.
Members' pay has increased by 56% between 1999 and 2010.
However, they have agreed their pay should be fixed at the current level until the 2015 election.
The total cost of AMs' pay, allowances and staffing costs will be about £12.7m next year, down 7.1% or £500,000.
The report is the first from the independent remuneration board - part of the assembly's response to the MPs expenses scandal - which sets pay and expenses in Cardiff Bay.
Board chairman George Reid said assembly members must have what they need to do their jobs properly.
The board found an assembly member's basic salary was in the top 1.7% in Wales and in the top 4.8% for managers and senior officials.
Those who hold offices can earn more, with the first minister qualifying for a total £134,722.
The report also confirms a cut in the number of AMs who will be able to claim expenses for accommodation in Cardiff - from 51 to 25. They will only be able to claim rent of up to £700 a month, not mortgages.
AMs' budget for staff will rise from £80,000 to £89,000, but the recruitment process will be changed.
From the beginning of the fourth assembly all vacancies must be advertised externally on the assembly's website. A standard contract with common terms and conditions has been introduced.
The report reveals variations in the amount of annual leave support staff were entitled to - some were eligible for 20 days a year, while others received 35.
Under new rules, AMs may continue to be employ relatives, but their role in the recruitment process will be reduced. Final interviews and assessments will be conducted by the assembly's human resources team.
Board chairman George Reid said it was vital AMs had the support they needed to do their jobs following the Yes vote in this month's law-making referendum.
He said the board's first determination on pay was made "against a backdrop of exceptional economic circumstances" and could be met by a smaller budget.
"This is a clear and transparent system of remuneration," he said.
"It's rooted in Wales because we have looked at comparators and what Welsh people get in their pocket.
"It's good deal, it's a fair deal and it most certainly should not deter people from standing for the fourth assembly."
Assembly Commissioner William Graham, who is responsible for AMs' salaries and allowances, backed the board's move.
"It is an experienced and well respected remuneration board," said the South Wales East AM.
"They have taken reasoned evidence and their conclusion will be supported by the overwhelming majority in the present financial climate."
Mr Graham said he did not think the move would limit the flow of talent into the assembly.
"We are amongst the 1.4% of higher people in Wales," he said. "And in order to do our job they have taken into account the allowances for support staff."
Peter Black, also a member of the Assembly Commission - which ensures property, staff and services are provided for the assembly - said he hoped the public would consider it a sensible package.
"Hopefully the public will note that, firstly, we no longer take our own decisions on these issues - we have given it to an independent commission," he said.
'Tight rein'
"Secondly, we're very much reducing the amount we spend on expenses and support for members and keeping a tight rein on that."
John Curtice, a constitutional expert and a professor of politics at Strathclyde University, said the independent review had "not been particularly generous to AMs".
But it came against a backdrop of the UK government asking MPs to turn down a proposed 1% increase in their pay at a time when the public sector was facing a pay freeze, he said.
Prof Curtice told Radio Wales: "I think the truth is [that] given the current climate, the idea of increasing pay for politicians is very difficult.
"I think for the foreseeable future, the pay of all politicians across the UK is going to remain at its current level and the idea of increases is out of the window."