Anglesey politicians warned council could be merged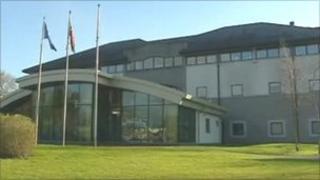 Anglesey councillors have been warned their authority could be abolished if they do not co-operate with commissioners appointed to run the authority.
Local Government Minister Carl Sargeant said he would consider merging Anglesey with another authority if councillors do not work with the new system.
He sent in commissioners after years of political infighting on the island.
Councillors have been stripped of all executive powers.
They could have some of their functions returned if they show they are willing to work with the commissioners, Mr Sargeant said.
The minister said he acted swiftly when he and the first two commissioners spoke to journalists on the island on Thursday.
He said: "If I believe they (councillors) chose to work with the commissioners then I will consider starting to introduce function back.
"If in the worst-case scenario they decide they are not prepared to work with the commissioners and decide to work actively against them then there is a possibility I will take further intervention."
Asked what further action he could take, Mr Sargeant pointed to legislation passed by the assembly this week that gives the Welsh Assembly Government the power to amalgamate authorities.
If the new system collapses he would have "no other alternative than to move to a next level of intervention which could mean the use of the 2010 local government measure".
"What I will be saying to councillors is work with the commissioners because this is an opportunity to influence the decision process of the commissioners," he added.
About £500,000 has been spent on trying to resolve problems at the council - money that could have gone to front-line services, Mr Sargeant said.
Two commissioners - former Flintshire council leader Alex Aldridge and former Cardiff chief executive Byron Davies - have been appointed. Gwent Police Chief Constable Mick Giannasi has been invited to join them when he retires at the end of the month and two more will be appointed.
Mr Aldridge said he would support the council's staff and serve the local electorate.
"We are not coming here as overlords. We are coming here to make a contribution," he said.
Mr Davies said the fact he lives in Cardiff would not stop him doing the job.
Stressing councillors would still have a role, he said: "We want to work with them. It's important that we hear what they think the people want and we will be asking the people what they want too."
Mr Sargeant acted after a report from the Wales Audit Office (WAO) said conflict at the council was "once again having a corrosive effect".
It said that "the pursuit of power for its own sake or for the advantages that it can bring to individuals or the wards they represent has once again emerged".
The WAO also suggested holding a referendum on creating a directly-elected mayor for Anglesey.
Alan Morris, from the WAO, told BBC Radio Wales: "We want an opportunity to reinvigorate the right kind of politics on Anglesey and, to a degree, taking the power away seems to have become an inevitable step."
Anglesey MP Albert Owen said he advocated the idea of an elected mayor who would have a "clear mandate".
"There's no going back. We need to change the whole culture. We need more women, we need younger people."