Welsh AV opponents launch referendum No vote campaign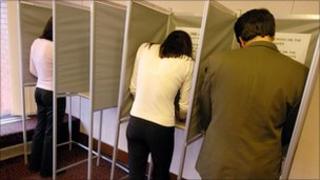 Opponents to changing the system for electing MPs have launched their Welsh campaign.
A referendum on adopting the alternative vote for general elections will be held on 5 May, the same day as the election to the Welsh assembly.
It is part of the coalition agreement between the Conservatives and Liberal Democrats.
Labour and Tory politicians were among those who backed the No to AV campaign launch in Cardiff.
Campaigners said they wanted to warn voters about the cost of changing the system.
Conservative AM Andrew RT Davies said the AV system was "unfair".
The Labour MP for Blaenau Gwent, Nick Smith, said he would urge his constituents to vote No on 5 May.
"The alternative vote is not going to fix our politics," he said.
"In fact it will create a system which gives way too much power to the Lib Dems - this is patently unfair."
The pro-AV group Yes to Fairer Votes is expected to stage an event to highlight its campaign in Wales next week.
The Lib Dems have long campaigned for changing the UK's first-past-the-post elections, and their leader and Deputy Prime Minister Nick Clegg is backing a Yes.
Despite agreeing to a referendum as part of coalition negotiations after last year's general election, Prime Minister David Cameron is campaigning for a No vote.