Belt-up law passed to make school buses safer in Wales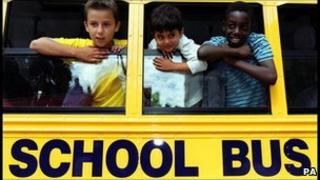 Seat belts will be compulsory on school buses from 2014 under legislation passed by the Welsh assembly.
A law was nodded through by Assembly Members, which will ensure vehicles taking pupils to school have belts fitted to every passenger seat.
Other regulations could be introduced at a later date which would require the use of CCTV on school buses.
Campaigners welcomed the move and the assembly government said it was a "huge step forward" for pupil safety.
Ministers had intended to issue regulations on compulsory seat belts, but an amendment passed in the Senedd on Tuesday means the law will take effect as part of the Safety on Learner Transport Measure from 1 October, 2014.
It means an end to three children sharing two seats.
David Cunningham-Jones, whose 12-year-old son Stuart was killed in a school bus crash in the Vale of Glamorgan in 2002, welcomed the legislation.
"We've been trying to get seat belts for every child on a school bus for a considerable time so to get that on the face of the new measure, we're delighted," he said.
"There are other issues that need to be looked at as well but it's generally a step in the right direction for us and something we applaud and look forward to."
He said there were no excuses for bus companies and local authorities to comply with the legislation because it had been coming for a long time.
'Long process'
Opposition AMs backed the changes, but questioned why the law would not start until 2014.
During a Senedd debate, Conservative AM Darren Millar said he had "serious concerns about the proposed timetable".
Deputy First Minister Ieuan Wyn Jones, who is also transport minister, said the date would give local councils and bus contractors time to prepare for the change in the law.
It had taken four pieces of legislation and requests to Westminster for law-making powers to get to this stage, he said.
Seat belts were already fitted to 88% of buses, he told AMs.
"Today marks a huge step forward in our efforts to ensure the safety of our children as they travel on contracted school transport," he said.
"It has been a long process, but thanks to the hard work and dedication of all involved, we have reached this crucial final stage."
A Tory amendment that would have required parental approval for CCTV to be used on buses was voted down.
Although Mr Millar said it would "ensure that the consent of parents and guardians has to be sought", Mr Jones said the proposal was "totally unworkable".
Mr Jones said it could mean a minority of parents stop CCTV being used on buses where most were in favour, and that data protection laws answered objections to its use.
There was some evidence to suggest that the presence of CCTV improved behaviour on school buses, he added.