Budget fuel price call by Welsh Tories and Lib Dems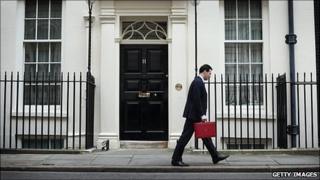 Chancellor George Osborne has been urged to help Welsh motorists with fuel prices as he delivers his Budget.
Mr Osborne has hinted that he may scrap a fuel duty rise due next month.
Conservative assembly group leader Nick Bourne said he had "to do what's right by the country" and hoped he could act on fuel.
Welsh Liberal Democrat leader Kirsty Williams said household budgets were under pressure and called for the fuel duty increase to be scrapped.
The Tories and Lib Dems said the UK government had laid the foundations for economic growth by dealing with the deficit.
Pre-Budget analysis by BBC Wales business correspondent Nick Servini: Wales economy growth 'tough slog'
But the Welsh Assembly Government said spending cuts were too deep and too fast.
On Sunday, Mr Osborne told the BBC's The Andrew Marr Show that he was "looking very carefully" at freezing the duty in Wednesday's Budget.
With uncertainty in the Middle East and Libya contributing to increased oil prices, the cost of petrol has risen sharply.
Motoring organisations have called on the government to scrap the planned rise in duty. It is due to take effect in April when it will go up by inflation plus 1p, making a total rise of about 4p per litre.
The Welsh Lib Dem leader said last year's Budget was "difficult... but it laid the foundations for the sustained economic recovery that Wales needs", she said.
"Fuel duty is now a real issue for so many families, particularly in rural Wales," she added.
The Wales Office has asked the Treasury to cut the cost of petrol by up to 5p a litre in rural Wales.
Minister David Jones recently revealed that he asked for a proposed fuel duty rebate scheme to be extended to the Welsh countryside.
Growing the economy
But Welsh Assembly Government Finance Minister Jane Hutt said: "My main message to the chancellor is that the cuts are too fast and too deep and they are putting families, communities and businesses at risk in Wales."
She said the Budget needed to take action to stop the UK sliding back into recession, adding: "We need to see that there is a clear plan for growth and jobs."
Prime Minister David Cameron has rejected claims that Wales has been unfairly targeted by spending cuts.
Plaid Cymru said the Westminster coalition government should have concentrated on growing the economy instead of cutting spending in its first budget last year.
Plaid MP Jonathan Edwards said: "Quite simply, they got it the wrong way around."
Trade union Unison said its research showed last October's spending review could deprive the Welsh economic of £3.6bn and warned of 52,000 job losses, with half coming from the private sector.
Unison Cymru secretary Paul O'Shea said: "The view that the private sector is going to mop up the job losses being experienced in the public sector is merely wishful thinking."