Ex-Wales Audit Office man Anthony Snow defends payout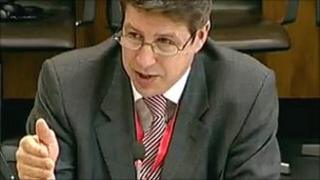 A former senior audit official has defended his £750,000 pay-off and thousands of pounds worth of training.
Anthony Snow answered questions about his severance package from the Wales Audit Office when he faced questions from AMs in the assembly.
He told the Public Accounts Committee he had no idea about the criminal behaviour of his former boss, ex-Auditor General Jeremy Colman.
Mr Colman was jailed after admitting possessing indecent images of children.
Mr Snow was chief operating officer at the public spending watchdog from 2005 until September 2009.
An internal review at the WAO later revealed Mr Colman instructed a colleague that nothing should be put in writing about payments to Mr Snow.
Mr Snow told AMs Mr Colman agreed to a request that the head of human resources was not involved in his departure.
But he added he was "completely unaware" that Mr Colman had taken external media advice about the redundancy and that he assumed it was going to be made public.
When Labour AM Alun Davies said he had been well compensated by the taxpayer, Mr Snow said: "Yes, and if you look at the actual entitlement I had less than half my income and three months to try to find another job in difficult economic times.
"I've ended up finding another job, but where I have to stay away from home every week of the year. So I beg to differ."
'Extraordinary sums'
Asked whether he had any idea of Mr Colman's criminal activity, he said: "Absolutely not. None whatsoever."
Mr Snow said the cost of the training he received averaged about £8,500 a year.
Committee chairman Darren Millar asked about the "extraordinary sums of money" spent on training Mr Snow and said that "many people would regard it as quite lavish".
Asked whether he would like to apologise to the taxpayer, Mr Snow replied: "Those training courses I attended and in my view they represented value for money."
One of the sessions he undertook was on "presentational skills" with a voice expert.
Plaid Cymru AM Bethan Jenkins asked about some training he received in 2009 after learning his role was not going to continue.
She said: "All we would like is for you to acknowledge that when you were winding down your position it was not perhaps pertinent to go on training courses, especially executive coaching training courses, when your position was coming to an end."
Mr Snow said he had been aged 50, had worked in the sector for a long time and the coaching and mentoring helped him "move on".
One of the courses had already been booked months in advance of signing his departure agreement. Others were agreed with Mr Colman "because I had effectively been displaced".
He said he was surprised when Mr Colman told him he was considering making his post redundant, describing it as a "bolt out of the blue".
He told the committee the relationship between him and the then auditor general was "not a sociable relationship - it was a professional relationship".