Plaid Cymru: Mobile phone masts plan to 'connect Wales'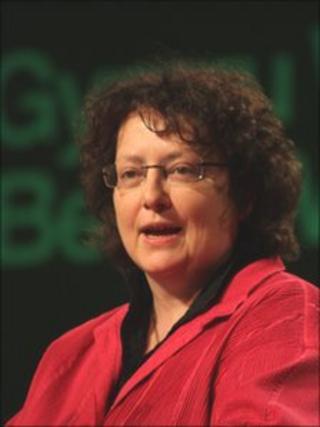 Plaid Cymru would erect mobile phone masts on publicly-owned land to improve reception across Wales.
Rural Affairs Minister Elin Jones told Plaid's spring conference the party wanted to "connect Wales" with better mobile signals and broadband.
A Plaid government would legislate for a new planning system, she added.
Plaid did not want to preserve a "picture postcard countryside". "We are a party that wants a living vibrant countryside," she said.
Ms Jones said some communities were so frustrated by the lack of mobile phone signals that they were erecting their own masts.
If it is in government after May's assembly election, she said Plaid would install masts and offer them to telecoms companies to "plug gaps" left by the private sector.
Land near schools and hospitals would be excluded, but she suggested publicly-owned forests as potential sites. Television transmitters could also be used to extend broadband coverage, she added.
"Plaid Cymru will not allow areas of Wales to be left behind - we want all of Wales connected," she said.
She attacked planning laws that had been in place since shortly after the second world war and which were intended to protect "the village green".
After "tinkering" with the existing system, she said it was time for a "complete re-write" of planning legislation to serve the needs of communities.
She said introducing fresh legislation would take a full assembly term, would require a big scrutiny commitment by the assembly and would "shock" planning officials in the civil service.
"The next 12 years should be characterised by fundamental reform," the Ceredigion AM said.
Ms Jones also called for the creation of a new Welsh public service, with its head appointed by and answerable to the first minister, not the head of the civil service in Whitehall.
The current service was a "hangover" from before devolution, she told Plaid members at the Wales Millennium Centre in Cardiff.
'Untrammelled power'
In his speech, former Welsh Secretary Ron Davies - now a Plaid candidate in his old seat of Caerphilly - attacked his former comrades in the Labour Party, accusing them of "whinging and moaning".
The vote in favour of direct law-making powers for the assembly in this month's referendum "extends our democracy", he said.
Plaid has been in a coalition government in the assembly with Labour since the last elections in 2007. But after a four-year truce, Plaid has used the conference in Cardiff to ratchet up its attacks against its coalition partners.
Mr Davies said Labour had not done enough for Wales despite enjoying "untrammelled power", adding: "It's a shame they didn't stand up for Wales for the last 12 years."
Outlining her party's health policies, Plaid AM Helen Mary Jones called for the creation of community wellbeing centres, staffed by health professionals who were directly employed by the NHS.
She said the NHS was a "national hospital service with directly salaried staff... but the vast bulk of our community health services are in fact provided by independent contractors".