'Yes to Fairer Votes' campaign on AV steps up in Wales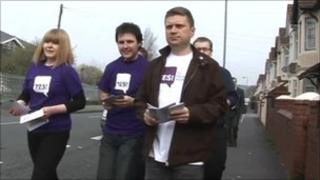 Supporters of change to the voting system for Westminster elections have stepped up campaigning in Wales.
The Yes to Fairer Votes campaign claim the current first past the post system does not reflect the will of electors.
The alternative vote system, or AV, sees voters rank candidates in order of preference.
A referendum to decide if the system is to be changed will be held on 5 May, the same day as elections to the the Welsh assembly and Scottish Parliament.
Newport West Labour MP Paul Flynn joined campaigners on the city's streets.
"At the moment we have a system that favours politicians, people can get into power and stay there for a long time," he said.
"The current voting system is distorted, people can get elected with 25% of the vote which is crazy."
Mr Flynn argues that under AV political parties will see the share of the vote they receive in a general election better reflected in the amount of seats they get in Westminster.
'Grotesquely unfair'
"In past elections in Wales the Conservatives got 20% of the vote and not one of the 40 Welsh seats.
"That pleases me as a member of the Labour Party but it is grotesquely unfair."
Under the current system the candidate who gets the most votes in a constituency is elected the MP.
But with AV, people can nominate as many preferences as they like. Only first preference votes are counted initially.
Anyone getting more than 50% of these is elected automatically.
If that does not happen, the candidate with the fewest votes is eliminated and their second choices allocated to the remaining candidates in a second round of voting.
This process continues until one candidate achieves 50% of the vote.
However, defenders of the current system say it generally leads to stable government and has historically reflected the will of the public in that unpopular governments have been voted out.
First Minister Carwyn Jones and Deputy Prime Minister Nick Clegg are both supporters of AV. But Prime Minister David Cameron who will vote against a change to the first past the post system.
It is part of the coalition agreement between the Conservatives and Liberal Democrats at Westminster.
Labour and Conservative politicians were among those who backed the No to AV campaign launched in Cardiff last week.