UK coalition 'not stable' says ex-chancellor Lord Howe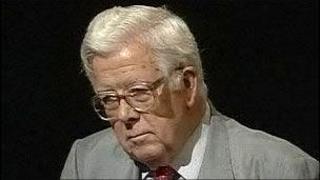 Former Conservative chancellor Lord Howe of Aberavon claims the Conservative and Liberal Democrat coalition is "not stable".
He said there were "many divisions" and it was not a system he "would like to see being extended."
Lord Howe, who served as chancellor and foreign secretary under Margaret Thatcher, is opposing a change to the system for electing MPs.
He told BBC Radio Wales it would lead to further coalition governments.
Speaking on the political programme Sunday Supplement he said: "The fact that we now have to settle for the coalition that we have today shows there are many divisions within the coalition that are depriving us of the stable government you'd get from a single majority party in charge.
"It may be able to survive with some stability, but it has incorporated an amalgam of legislation from both sides of the case so to speak.
"If you visualise the talk between Cameron and Clegg at the beginning - they'd say 'You can have that if I have that?'
"'Okay well let's have that and let's . . .' - they've piled in a lot of legislation that the House of Lords has been struggling with."
The Port Talbot-born peer, who also served as Foreign Secretary and deputy prime minister, said one example was the change to the funding of the Welsh language television channel S4C.
"It's not stable well-regulated government," he added.
Asked whether he thought the coalition would last the distance he said: "We shall have to wait and see.
"Tensions are becoming apparent in various ways.
"I think, that because it is an unusual experiment, people will try to make it last but it's not a system that I would like to see being extended."
Meanwhile, former independent MP Martin Bell, who is supporting the change to an alternative voting (AV) system said the current system did not reflect the will of the people and compared it to an "outdated mobile phone".
Mr Bell told Sunday Supplement: "The No campaign are all peers and MPs who have all benefited from safe seats formany years."