Parties set out assembly election pledges on cancer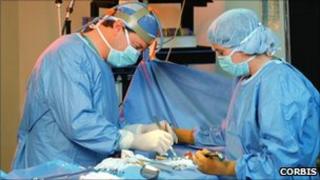 Political parties have spelled out what they would do for cancer patients in the race for the Welsh assembly.
It follows claims that 30 patients were denied potentially life-extending drugs by the NHS.
Labour said it would set new waiting times and Plaid Cymru offered every patient a specialist nurse.
The Conservatives promised a cancer drugs fund for new medicines and the Welsh Liberal Democrats a comprehensive national cancer plan.
It has emerged 30 Welsh patients were denied funding for treatment between October 2009 and December 2010 after the NHS "refused to pay for drugs which could have prolonged their lives".
The figures were revealed by the Rarer Cancers Foundation (RCF) which is sponsored by pharmaceutical companies.
A further 91 patients had to apply for funds for treatment recommended by a doctor using "exceptional case procedures" as it was not routinely available.
The report says there are 22 drugs which doctors can apply for in England, but which are not available in Wales.
Labour said it would "continue to make tackling cancer a priority for the NHS in Wales".
If it wins the election on 5 May, it said a fourth term Labour administration would introduce new waiting times targets to speed up treatment and diagnosis.
National standards for children and young people suffering from cancer, brain cancer and sarcoma would be developed, the party said.
And key workers would be assigned to cancer sufferers to co-ordinate their care.
Plaid Cymru said it would also a specialist nurse for patients.
It said it would encourage the NHS, social services and voluntary sector to work together.
Plaid's health spokeswoman and Llanelli candidate Helen Mary Jones said: "A long-term plan is vital in making sure that advances continue to be made and that patients benefit from new and more effective research, treatments and support services.
"That is why we are making a national cancer plan for Wales a key plank of our manifesto for the forthcoming Welsh elections."
The Welsh Conservatives said a £10m fund for medicines that have not yet been approved by the watchdog the National Institute for Health and Clinical Excellence (Nice) would tackle a "postcode lottery".
Tory health spokesman Nick Ramsay, the party's Monmouth candidate, said Tuesday's report showed Welsh patients were being denied treatments available elsewhere in the UK.
"At a time when patients and their families are facing distressing news about their treatments, they do not want to have to fight for access to the medicines they need," he said.
"A cancer drugs fund would bring Wales into line with the rest of the UK and ensure that Welsh patients are not disadvantaged."
Welsh Liberal Democrat south-east candidate and health spokeswoman Veronica German said the latest findings were "absolutely unacceptable".
Her party would establish a programme similar to a UK government fund for cancer drugs "which will help to do away with the cancer inequalities between Wales and England".
"The Welsh Liberal Democrats are the only party with a cancer strategy that will deliver for the people of Wales," she said.
The Lib Dems will publish their cancer strategy later in the campaign.