Vote 2011: Welsh parties set out youth employment plans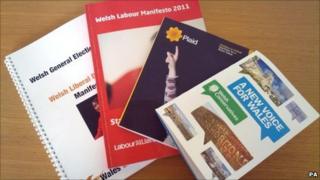 Political parties have set out their plans for getting young people into work if they win next month's Welsh assembly election.
All four of the main parties in the election campaign have published manifestos containing plans to create jobs.
Official figures this week showed unemployment in Wales rose for the fifth month in a row.
Across the UK, youth unemployment has edged closer to a million.
The latest figures show unemployment in Wales rose by 3,000 in the last quarter to 126,000, which is 5,000 lower than the same period last year.
The number of jobless 18 to 24-year-olds in the UK increased by 12,000 in the three months to February to 963,000.
The most recent figures on Wales' youth unemployment rate put it at 22.3% in the year to September 2010 - higher than the UK rate of 19.1%.
'Relative decline'
A recent report from Glasgow University's Centre for Public Policy for Regions said the Welsh economy had shown "signs of relative decline".
While Scotland was approaching the level of the UK as a whole, Wales and Northern Ireland lagged "significantly behind", it said.
After serving in a coalition together since 2007, Labour and Plaid Cymru have traded blows over who deserves the credit for the way their assembly government responded to the recession.
Vaughan Gething, the Labour Cardiff South and Penarth candidate, said his party was responsible for the coalition's ProAct and ReAct schemes, and Plaid Cymru claiming credit was "like a passenger trying to take credit for driving a bus".
ProAct offered money to help train the staff of struggling firms during the downturn. ReAct offered help for people who were laid off.
Mr Gething said Labour ministers drove through initiatives "that made sure that 12,000 people are in work today, who otherwise would have lost their jobs".
Labour said it would establish a £25m fund to help create jobs in the public and voluntary sectors for under-25s.
Plaid Cymru said Labour had been "reduced to making ridiculous claims about Plaid's record in government in order to avoid talking about their record of failure over the past 12 years".
It said that Welsh children were being "left behind due to Labour's mismanagement of our education system".
The party's policy director, Carmarthen West and South Pembrokeshire candidate Nerys Evans, said Plaid had plans to create up to 50,000 jobs and support 30,000 apprenticeships.
It has proposed creating a not-for-distributable-profit company that would raise money to invest in public infrastructure projects, and plans an in-work training scheme and would work with local councils to invest £10m in training for young people.
Liberal Democrat Cardiff Central candidate Nigel Howells said: "Clearly, the number of young unemployed people is still a huge issue in Wales, which is why the Welsh Liberal Democrats want to offer training grants of £2,000 to businesses that take on young unemployed people.
"This will encourage businesses to employ young people, and will enable them to help develop the skills that our economy desperately needs."
Conservatives said they would abolish rates for businesses with a rateable value up to £12,000, with tapered rates from £12,001 to £15,000 - a pledge that rivals say is unaffordable.
Under a Tory assembly government, they said schools would set up social enterprises to encourage more young people to become entrepreneurs.
The party's manifesto says Welsh wealth should by 85% of the UK average by 2020, and 100% by 2030.