Vote 2011: Mehmet plea on Welsh assembly late count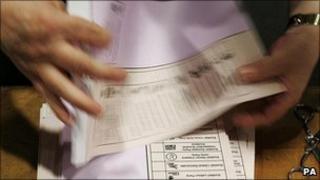 The man running the assembly election in north Wales has urged politicians to stop criticising his decision not to count votes when polls close.
Mohammed Mehmet said the attacks put the election's running at risk.
Counting in the 13 regional seats will not begin until 0900 GMT on 6 May with the final result not known until much later.
All four main parties and assembly Presiding Officer Dafydd Elis-Thomas have criticised the plan.
Lord Dafydd Elis-Thomas has accused Dr Mehmet of "failing to act in the interests of voters".
A number of marginal seats in north Wales could decide whether any one party wins a majority in the election.
In an e-mail responding to criticisms, and seen by BBC Wales, Dr Mehmet writes: "I would now like to plead with national politicians to stop this pressure.
"Some of us can deal with it, but it is beginning to unsettle more junior staff and we, as returning officers, must look after their health and well being.
"They must now be allowed to focus on planning and helping to run the elections. The continued political and media attention is becoming a risk."
Dr Mehmet said that the returning officers considered in recent days whether to change the count to overnight but decided to stick by their decision.
He said, "We have at all times followed their advice and guidance. We have done an enormous amount of planning between 7 January and 7 April and it is simply too risky to change our minds at this very late stage.
"I have to say that it is also enormously frustrating that other areas have taken their decisions so late and that the political expressions of concerns have been so last minute.
"I have a record of all the conversations with all the agents and candidates and I can assure that this matter was not raised as a significant concern.
'Unfair publicity'
"I can also inform you that, even with the negative and unfair publicity and pressure, we have had no negative reaction from the public."
Election watchdog the Electoral Commission has also been under fire as news emerged of the split count in different parts of the country, and its Wales, Kay Jenkins, has defended its role.
In a letter to Lord Elis-Thomas, she pointed out that the commission has no statutory powers to insist on when a count should take place as this was solely a matter for returning officers.
The commission will prepare a report on the running of the election, to be published in the autumn.