Candidates clash over fuel prices and NHS in debate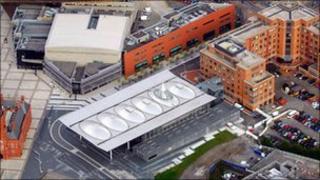 Politicians have faced questions about rising fuel prices and the NHS in the second BBC TV debate of the assembly election campaign.
Candidates heard the cost of fuel was causing hardship in the countryside.
Labour's Vaughan Gething blamed a VAT rise and Plaid's Elin Jones pledged more investment in public transport.
Welsh Lib Dem Peter Black hailed a UK government cut in fuel duty and Conservative hopeful Lisa Francis attacked Labour's financial legacy.
Ms Francis, number two on the Tories' mid and west Wales regional list, told the audience in Machynlleth on Monday night that there needed to be better links between train and bus services.
Decisions by Chancellor George Osborne to cut fuel duty by 1p per litre and to delay an inflationary rise in duty had saved motorists 3p, she said.
Labour's Cardiff South and Penarth candidate Mr Gething said: "It's a difficult question and of course the context for it has been set by inflation, that's risen, and also of course the rise in VAT."
He said Labour would campaign for a living wage and would maintain free bus passes for disabled and older people if it wins the election on 5 May.
Plaid's Ceredigion candidate, Ms Jones, said rural areas faced a "double whammy" because wages were lower than average and the cost of living was so high.
She said spending on public transport accounted for half of the Labour-Plaid assembly government's transport budget. Plaid wanted to increase the proportion to 65%, she added.
For the Liberal Democrats, south west regional candidate Mr Black said the Chancellor was "absolutely right" not to raise fuel duty in the last Budget.
"There are things which the Welsh government can do in conjunction with what's being done by the UK government to help rural communities such as the one we are in today," he said.
'More improvement'
Asked about the potential impact on Welsh patients of NHS reforms in England, Ms Jones said she would like to see more patients served by Bronglais hospital in Aberystwyth.
Mr Black said: "We have concerns about those services on the other side of the border in England and we need to work with the UK government in terms of that provision."
Mr Gething said Labour could be proud of its record on health, including on waiting times, but that the party "would like to see more improvement".
Ms Francis defended a Conservative policy to ring fence the assembly government's health budget, despite cuts to overall public spending.