Vote 2011: Parties begin final push for Welsh assembly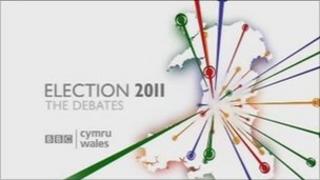 The political parties have begun their last few days of campaigning before Thursday's Welsh assembly elections.
It comes as the four main party leaders prepare for a TV debate on BBC One Wales on Monday night (2240 BST).
Liberal Democrats have been campaigning on public transport, while the Conservatives have been concentrating on the economy.
Labour has focused on three key marginal constituencies, while Plaid Cymru has campaigned in Llanelli.
A YouGov poll for S4C's Byd ar Bedwar programme showed Labour's lead over their competitors slipping slightly from other recent polls, but they remain clearly ahead of the other main parties ahead of Thursday's vote.
YouGov polled 1,141 people between 24-26 April.
Peter Black and Stuart Rice, Lib Dem candidates for South Wales West, outlined the party's commitment to accessible and sustainable public transport at Swansea's Quadrant bus station.
"Getting public transport right is a critical part of ensuring that Wales grows successfully," said Mr Black.
He said that the party would continue to press for the electrification of the railway line to Swansea.
He added: "The Welsh Liberal Democrats will re-negotiate the Arriva Trains contract to ensure that we invest in re-opening new stations and electrifying the Valleys lines and make existing stations more accesible and safe."
'Back door'
Welsh Labour leader Carwyn Jones has been visiting three areas in three marginal constituencies - Barry in the Vale of Glamorgan, Pentwyn in Cardiff Central and Whitchurch in Cardiff North.
Mr Jones began the day with a warning to voters on the possibility of a Tory-led coalition in Wales to add to that in Westminster.
"We are the only party in Wales who won't do a deal with the Tories," he said.
"A vote for the Lib Dems or Plaid will just let them in through the back door."
He added: "We are the only party with a vision for this country; a vision based on fairness, equality and standing up for the people of Wales."
Nick Bourne, Welsh Conservative leader, visited a bakery and delicatessen in Porthcawl, where he called for the abolition of business rates for all small businesses.
'Backbone of economy'
"Small businesses are the backbone of our economy," said Mr Bourne. "It therefore stands to reason that they need as much support as possible to help drive the Welsh economy forward.
"Small businesses need someone to stand up for them - to give them the help they need - not ignore them, as Labour have done in their manifesto.
"By taking all small businesses out of business rates altogether, Welsh Conservatives would allow them to invest in staff and development."
Plaid Cymru's Helen Mary Jones was in Llanelli outlining the party's plans on job creation and education.
Chris Franks, who is seeking re-election for the party in the South Wales Central regional seat, was campaigning on the issue of empty properties.
Plaid Cymru said more than 5,000 homes were lying vacant in Rhondda Cynon Taf.
Mr Franks said: "While we have made a great deal of progress on housing in the last four years, it is only through voting Plaid twice can we ensure we have as many assembly members as possible to make progress on this important issue.
"Plaid will bring empty properties back into use and despite budget cuts, we will create at least 6,500 new affordable homes in Wales over the next assembly term, tapping into new sources of finance."
Mr Bourne, Mr Jones, Plaid Cymru leader Ieuan Wyn Jones and Welsh Liberal Democrat leader Kirsty Williams will appear on the Leaders' Debate programme, which is being recorded in Newport.