Vote 2011: Welsh leaders clash in BBC TV debate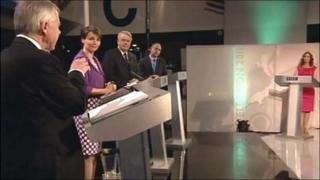 Wales' four main party leaders have clashed in a televised debate days before the assembly election.
The leaders of Labour, Plaid Cymru, the Conservatives and Liberal Democrats argued over the state of schools, public cuts and keeping their promises.
They also put forward their own differing suggestions for cutting public spending.
Monday night's BBC One Wales debate in Newport was one of the last chances to secure votes before Thursday's poll.
Labour and Plaid have been in coalition in the assembly government since the last election four years ago, but their two leaders fell out during the programme, hosted by BBC Wales political editor Betsan Powys.
First Minister and Welsh Labour leader Carwyn Jones was accused of "arrogance" by Plaid Cymru's Ieuan Wyn Jones "to think they could take Wales for granted".
But Carwyn Jones said he was surprised by the accusation, and said there was nothing arrogant in aiming to win the election.
The Labour and Plaid leaders also differed on education, which dominated the first part of the debate, staged at the City Campus at the University of Wales.
'Appalling standards'
In response to a question from a retired head teacher who called standards in schools appalling, Carwyn Jones said he did not accept that description for all schools.
He cited Welsh successes such as the foundation phase, which offers learning through play for under-sevens, and said the 30% of schools which did not come up to scratch had to improve.
Ieuan Wyn Jones called it a scandal that 13,500 11-year-olds would go to secondary school this year while "functionally illiterate".
The Plaid leader said Wales needed a transformation in education, and while his party had been in government for the past four years, he would not "defend the indefensible".
Welsh Conservative leader Nick Bourne said Welsh schools' results were appalling, and they wanted more control of their budgets, which his party was promising.
Mr Bourne accused Carwyn Jones of being "far too complacent" over schools.
'Freezing top salaries'
Kirsty Williams, of the Welsh Liberal Democrats, asked if Ieuan Wyn Jones had not addressed the state of education during his time in government "because Carwyn wouldn't let him".
She said the gap in spending on pupils between England and Wales had grown to more than £600, and said Lib Dems were committed to closing it.
Each of the leaders was also asked which areas of public spending they would cut.
Mr Bourne included "NHS managers on top salaries doing nothing," freezing top salaries in the civil service, and cutting over-spending on public projects such as roads.
Plaid's Ieuan Wyn Jones put forward cuts in the salaries of assembly government cabinet ministers, £150m of education budget savings re-invested in schools, and reducing NHS middle management.
'Not complacent'
The Welsh Lib Dem leader said she would end the £8m subsidy for air flights between north and south Wales, cut the amount processing assembly grants, and publish every assembly government spending decision over £25,000.
Meanwhile, Carwyn Jones said civil service staffing had fallen by 800 in the past year, and said Labour had committed to protect schools, skills and hospitals.
They were also asked how they would keep their manifesto, given that it was possible they could have to go into coalition after the election.
Carwyn Jones said he was not being complacent, and taking nothing for granted, but his party was the only one looking to win outright on Thursday.
That prompted Ieuan Wyn Jones to accuse him of taking Wales for granted, and said Plaid had delivered 230 out of 237 manifesto promises since 2007.
The Welsh Tory leader said he could not pre-judge the result, and urged voters to weigh up his party on its detailed manifesto.
Ms Williams said the Lib Dems had a "properly costed and deliverable manifesto" and she had shown that in negotiations "I can fight my corner".