Vote 2011: Assembly election parties hit the streets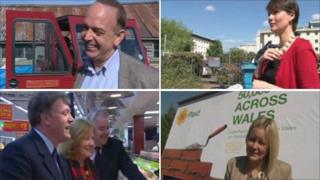 Squeezed by a royal wedding and bank holidays, parties are making the most of the penultimate day of assembly election campaigning.
Labour's Shadow Chancellor Ed Balls campaigned in Cardiff, while the Lib Dems spoke out about "waste and inefficiency" of the last Labour-Plaid coalition.
Plaid's message on creating 50,000 jobs was taken out on an advertising van.
The Conservatives were visiting small businesses.
Plaid assembly candididate Nerys Evans criticised the other parties for lacking proposals to create jobs.
"Whinging isn't going to create a single extra job here in Wales - our plan will create up to 50,000 of them."
Ms Evans said that Plaid's plan to establish the Build4Wales company would "put Wales in the premiership while the Tories and Labour seem content to see our nation languishing at the bottom of the league."
Hustings
Labour hosted a visit by Shadow Chancellor Ed Balls in Cardiff North, who joined Welsh Labour leader Carwyn Jones at a supermarket in Coryton.
During the visit Mr Balls conceded that the assembly could not "to shield Wales from all cuts".
However, he asked people to vote for a Labour majority because Welsh Labour was committed "to do everything possible to mitigate the impact of the Tory cuts."
Another senior Labour figure, Harriet Harman, raised the impact of cuts on families in the key seats of Cardiff Central and the Vale of Glamorgan.
The Welsh Liberal Democrats spoke out about "the waste and inefficiency" of the Labour-Plaid government at a press conference finale to their 'Waste Watchers' campaign.
Kirsty Williams, Welsh Lib Dem leader, listed unused prescription drugs, locum doctors and subsidy for the Anglsey-south Wales air link as examples of Labour-Plaid waste.
She criticised the last assembly government for turning "waste and incompetence into an art form".
She said that Wales would have to play its part in trying to reduce the national deficit, and so it needed "a goverment that can do more with less money".
The Conservatives spent the day pressing home themes from the televised leaders' debate on Monday night.
Continuing his visits to small businesses, Nick Bourne, the Welsh Conservative Leader, spent time with a supplier of miniature railway equipment in Anglesey.
Mr Bourne detailed Conservative plans to exempt businesses with a rateable value of £12,000 or less from business rates.
Welsh politicians should be "seeking to help small businesses, not strangling them with red tape and with burdens like high business rate taxation that they have at the moment" he said.
Mr.Bourne said a change was needed "to bring Wales into the 21st Century; more prosperous, fitter, more vibrant."
A hustings event will be held at Ysgol Gymraeg Bro Helyg, Blaina at 19.30 BST. The Assembly candidates taking part will be Alun Davies (Labour), Richard Hopkin (Conservatives), Bethan Jenkins (Plaid Cymru) and Rhys Jones (Liberal Democrats).