Party leaders' final appeals to Welsh assembly voters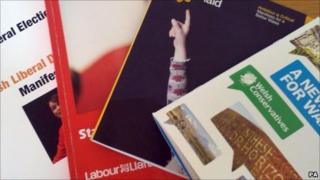 Party leaders in Wales have made their last appeals to voters on the eve of the Welsh assembly election.
Deputy Lib Dem leader Simon Hughes was in mid Wales and Plaid Cymru launched a final advertising campaign.
Labour's Carwyn Jones spoke in Aberconwy, and Conservatives Nick Bourne and Cheryl Gillan were in south Wales.
A final opinion poll showed parties' support holding steady at levels they have been throughout the campaign.
The YouGov/ITV Wales survey of 1,010 people put Labour in front, maintaining the lead it has held since the beginning of the campaign.
In the ballot for the 40 constituency seats, 47% said they would vote Labour, 20% Conservative, 18% Plaid and 9% Lib Dem.
Similarly, in the vote for the 20 regional list seats, 43% intended to vote Labour, 19% Conservatives, 18% Plaid Cymru and 8% Lib Dem.
Fieldwork was undertaken between 2 - 4 May. The survey was carried out online. The figures have been weighted and are representative of all Welsh adults (aged 18+).
On the campaign trail, Welsh Lib Dem leader Kirsty Williams resumed her attack on Labour and Plaid, accusing them of avoiding responsibility for "the failures" of the last assembly government.
"Labour's Mr Jones blames Westminster," she said. "Plaid Cymru's Mr Jones blames Labour's Mr Jones."
"Labour and Plaid, together in government, have left us with a weak economy, under-funded schools and an NHS that costs more but delivers less."
Ms Williams said Wales needed a government that would "get on with the job" of improving things not just blaming everyone else.
Meanwhile, Carwyn Jones chose Aberconwy, a three-way marginal, to make his last speech of the campaign.
The Welsh Labour leader said that his party could provide an alternative to Westminster government cuts which are "too far and too fast".
Health and employment
Claiming that the Con-Lib coalition plans were "hurting but not working", Mr Jones said that with a Labour government "Wales can show the way" in keeping fairness at the heart of government.
Plaid Cymru launched their final advertising push with leader Ieuan Wyn Jones stating Wales needed "innovative ways to defy the [public spending] crisis".
Criticising other parties as "uninspiring and devoid of real ideas", he warned that "Labour cannot be allowed to take the support of the people of Wales for granted".
Emphasising his party's plans to improve employment, education and skills, Mr Jones asked people to vote for Plaid's "fresh ideas and new ways of working" that "offer a beacon of hope that Wales can rise to the challenges we face".
The Conservatives ended their campaign touring South Wales, as the leader Nick Bourne highlighted the Tory committment to health and the armed forces.
He said: "In the final hours of the campaign we will be promoting our commitment to reverse Labour's £1bn cuts to the Welsh NHS.
"Welsh Conservatives are the only party committed to protecting the NHS budget and increasing it in line with inflation.
"Protecting the NHS budget will allow us to invest in a £10million cancer drugs fund, to improve ambulance response times and address the under funding of Welsh hospices."
Wales Green Party leader, Jake Griffiths, will be making a final stop at an eco-social housing project, as he campaigns to become the first Green AM.
Using the visit to call for investment in renewable technology, he will say that a sustainable economy would "create thousands of green jobs, and help put people back to work".