Vote 2011: Welsh assembly election most significant yet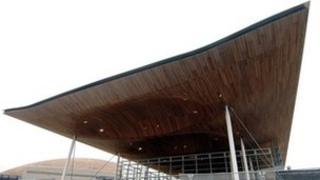 It has been a pretty uneventful 2011 Welsh assembly campaign all in all, with the parties keeping their focus local, rather than national.
This is the fourth time voters will choose Assembly Members and in many ways it is a different campaign to the others we've seen.
But in a post-referendum Wales - where the March vote saw decisive backing for the assembly to have law-making powers in devolved areas - this election might be described as the most important since the advent of devolution in 1999.
This is also the first time Plaid Cymru - the nationalist party - is campaigning as a party with experience in government.
Perhaps most significantly, this is the first time Wales chooses its representatives with a Conservative prime minister.
There is fierce campaigning in individual constituencies, with Labour seeking that elusive majority it has managed just once, both in 12 years of Welsh devolution and 12 years of Labour-led government in Wales.
For much of that time Labour has been in coalition, first with Liberal Democrats and most recently with Plaid. When the assembly dissolved, Labour held 26 of the 60 seats, followed by Plaid on 14, Conservatives 13, Lib Dems six, and one independent.
If the opinion polls are to be believed, Labour has seen a significant surge in support following the formation of the coalition government in Westminster.
As a result, the other three main parties - Plaid, Lib Dems and Conservatives - are working hard to hold on to their seats, with a few targeted gains which would be the icing on the cake for them.
Labour has relied heavily on the personality and popularity of its leader, Carwyn Jones, since December 2009, and has capitalised on that Conservative presence in London. It is encouraging voters to vote Labour as a message to the Westminster coalition government that Wales disagrees with its strategy for cutting the deficit.
Among key Labour policies are 500 new Police Community Support Officers and better access to GP surgeries.
Coalition bedfellows
Plaid on the other hand has concentrated its campaign on criticising Labour, distancing itself from coalition bedfellows of the past four years.
Education and the economy have dominated Plaid messages; attacking Labour's record on pupil attainment and talking up leader Ieuan Wyn Jones for his handling of the recession as economy minister.
Plaid promises to create jobs in construction the next government via a "Build for Wales" fund financed by money raised on the financial markets.
Conservatives have increased their representation in the assembly at every election so far. The electoral system has helped as where they have lost constituency seats they have gained regional ones and vice versa.
Their polling would indicate that their support base in Wales has remained largely unaffected by events in Westminster, and they have concentrated their campaign on health and the economy.
Following the Conservatives policy in England, the Welsh party have promised to ring fence health spending should they form a government, at the same time conceding that spending in other areas will have to be cut in order to support that pledge.
Toughest election
Tories have also pledged to cut business rates for small businesses.
Liberal Democrats are facing by far their toughest election yet.
Having managed six AMs in every assembly election so far, new leader Kirsty Williams's hopes of increasing that number this year were probably dashed when UK party leader Nick Clegg entered Downing Street with David Cameron, triggering a dramatic slide in their poll ratings.
The Lib Dem campaign has concentrated on eliminating government waste, claiming that more money could be spent in front line services if ministers and civil servants managed their finances better.
The campaign, which most observers concede has lacked drama, is guaranteed to turn into an overnight saga as the votes are counted and the results are announced.
The decision by returning officers in north Wales to count the votes there the following day means the tension is sure to continue well in to lunchtime on Friday.
The big question as the story unfolds will be this: has Labour managed to secure a majority to govern Wales alone or will the coalition discussions begin?
In 2007, those lasted several weeks. This Friday may mark the start, rather than the end of the story.