Conservatives start searching for Welsh assembly leader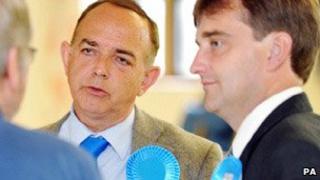 Welsh Conservatives are to begin the process of finding a new leader in Cardiff Bay to replace Nick Bourne.
He lost his seat in the assembly in what was an otherwise good election for the Tories.
The Conservatives overtook Plaid Cymru to become the second largest party in the Senedd with 14 seats.
A party spokesman said Welsh Conservative AMs and party chiefs will meet as soon as possible to appoint an interim leader.
A meeting between the assembly group and the Welsh Conservative management board could take place this weekend, the spokesman said.
Mr Bourne's permanent successor will be elected by a vote of party members.
Candidates for the leadership could include the re-elected Tory AM for Clwyd West, Darren Millar, who increased his majority by 2,652.
Andrew RT Davies, south Wales central AM, is also a possible contender.
Others could include Paul Davies and Angela Burns, who regained their seats of Preseli Pembrokeshire and Carmarthen West and Pembrokeshire South.
Former Conservative AM Jonathan Morgan, long seen as a potential leader, lost his Cardiff North seat to Labour.
Conservative AM David Melding, who said he would not run for the leadership vacancy, advised his party to "take this slowly and do it properly".
Mr Bourne said he was "obviously very disappointed" to lose his seat. He discovered his fate via twitter, he told BBC Wales.
"I've loved what I've been doing in the assembly," he said.
He said he had "12 marvellous years" as an AM for mid and west Wales.
His party won eight regional and six first-past-the-post seats, including Montgomeryshire where Tory candidate Russell George landed 10,026 votes to defeat Lib Dem opponent Wyn Williams.
On Twitter, Tory MP David Jones said: "After 14 tough years, Conservatives are firmly reinstated as the second party of Wales."
'Excellent result'
The Tories said their assembly group was "more representative" with four women AMs.
Welsh Conservative Party chairman Catrin Edwards said Mr Bourne was a victim of his own success, having lost his Mid and West Wales regional seat due to Tory gains in the area's constituencies.
"His direction, leadership and understanding of the needs of the people of Wales contributed to the success of the party in constituency contests," she said.
"The way in which he guided the party through the early days of devolution and made the Welsh Conservative Party relevant to a modern, radical and bilingual Wales was critical to our success not only this week but over the first decade of devolution."
Mrs Edwards described the overall result as excellent, and said Conservatives had "deprived Labour of its elusive majority".
Welsh Secretary Cheryl Gillan said: "Nick Bourne played a lead role in transforming the image and fortunes of the Welsh Conservative Party for more than a decade.
"His leadership, vision and courage have been central to the party's unprecedented levels of success in recent years."