Vote 2011: Welsh voters reject AV proposals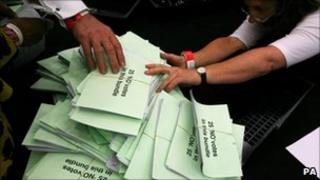 Voters in Wales have rejected plans to change the way MPs are elected, as the proposals were overwhelmingly opposed across the UK.
All 40 Welsh constituencies said No to replacing the first-past-the-post system with the alternative vote (AV).
The turnout in Wales was 41.7%, just below the UK figure of 41.8%, with 65% voting No compared to 69% in the rest of the UK.
Prime Minister David Cameron described the result as "clear and resounding".
Deputy Prime Minister Nick Clegg said it was "a bitter blow".
Leading Yes campaigners conceded defeat well before the final declarations.
After early results revealed the probable outcome Liberal Democrat cabinet minister Chris Huhne told BBC News: "If the boxes are anything like what I've seen it doesn't look good for the Yes cause."