Welsh Labour to explain plans for 'stable government'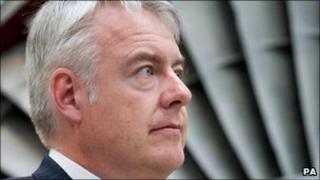 Welsh Labour leader Carwyn Jones is to outline the likely shape of a new assembly government, which his party says will be stable and in place soon.
Labour has had informal talks with other parties since winning half the 60 seats in last week's election.
Its strategy could become clearer on Tuesday after Labour AMs meet.
Meanwhile, Conservatives want the next presiding officer to be a Tory, which would mean the removal after 12 years of Plaid Cymru's Dafydd Elis-Thomas.
Labour increased its tally of seats by four at last week's election, but fell one short of the outright majority it wanted.
One new Labour AM, Pontypridd's Mick Antoniw, has called on his party to govern alone with its 30 seats.
Discussions with other parties could involve talks about the roles of the presiding officer and deputy presiding officer, which would affect the balance of power in the Senedd.
The presiding officer's job has been held by Lord Elis-Thomas since the assembly was established in 1999.
The Tories' interim leader in the Senedd, Paul Davies, said: "No deals have been struck between us and any other political party.
"The firm view of the Conservative group is that the presiding officer should come from the Conservative benches."
He said Tory AMs Angela Burns and William Graham had expressed an interest in the job.
There has been speculation that the assembly's standing orders could be suspended so opposition parties could provide both the presiding and deputy presiding officers. That would give Labour a majority of two.
Mr Davies said his group thought the two figures should come from different parties, but that "nothing is inconceivable".
"We don't want to give the Labour Party a majority because it was us who deprived them of a majority in the first place," he said.
The Welsh Liberal Democrats said they had not taken part in any discussions with Labour since the election, while Plaid said informal discussion had taken place.
In a statement on Monday, a Labour spokesman said informal discussions had taken place with other political parties.
It said Mr Jones will make a statement "to ensure Wales has a stable government in place as soon as possible" after a meeting of Labour AMs on Tuesday.
The first plenary session of the new assembly is expected to be held on Wednesday.
If Labour decides not to run an administration on its own, it could share power with another party - as it did with Plaid after the 2007 election - or work out a less formal arrangement.
But Mr Antoniw said he opposed going into coalition "and I think we should just go it alone".
"I think it's feasible, it might be tough, but then I don't think people have elected us to have a cosy time," he said.