Elis-Thomas out after 12 years in Welsh assembly chair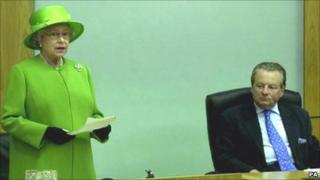 As one of the big figures in Welsh politics, Lord Elis-Thomas was the natural choice for presiding officer when the assembly opened for business in 1999.
If he had regained the post this week it would have meant 17 years in the job by the time of the next election in 2016.
As presiding officer he has effectively acted as the assembly's equivalent of the House of Commons' speaker for the first 12 years of devolution.
But no-one can go on for ever. The Labour AM for Newport West, Rosemary Butler, Lord Elis-Thomas's deputy before the election, says she has been encouraged to stand and has cross-party support.
The Conservatives, now the second-biggest party in the Senedd, say they want the presiding officer to be one of them. AMs will choose their prefered candidate in a secret ballot.
Dafydd Elis Thomas was born in Carmarthen in 1946, and educated at Llanrwst Grammar School and Bangor University.
He was elected the Plaid MP for Meirionnydd Nant Conwy in 1974 - the youngest MP in that parliament - and was Plaid president from 1984 to 1991. He was an MP until 1992 and became the first member of his party to enter the House of Lords that year, although it was as a cross-bencher and not for Plaid.
His re-election as the AM for Dwyfor Meirionnydd last week means his representation of the area spans 37 years.
Outside politics, he served as chairman of the Welsh Language Board and as a member of the British Film Institute and the Arts Council of Wales. In 2001 he was elected chairman of Bangor University.
In 1970 he married Elen M Williams and had three sons. He was later in a relationship with Marjorie Thompson, the chairwoman of the Campaign for Nuclear Disarmament, and in 1993 he married Mair Parry Jones.
Constant presence
In 2009 the Western Mail described him as "always impeccably-dressed" and a "colourful Hugo Boss-wearing character" who "exudes cool and calm with it".
He has remained a constant presence during the political upheaval of devolution's early years, a decade in which the assembly earned its stripes, the opening of the Senedd and a referendum on direct law-making powers.
But even as a member of the political establishment, he was never far from controversy.
In 2008 he urged AMs to boycott a meeting with the Israeli ambassador. He provoked a furious row with a call to wind up the Wales Office earlier this year.
Having been one of the dominant politicians in the first decade of devolution, he leaves some very big shoes to fill.