Carwyn Jones to take assembly oath and pick cabinet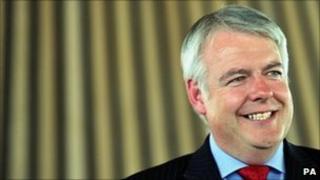 Carwyn Jones will start picking his cabinet after being sworn in as first minister on Thursday.
He will take the oath of office after being nominated for the job by AMs the previous day.
Mr Jones led Labour to victory in last week's assembly election, but fell one seat short of an outright majority.
His appointment was rubber stamped by the Queen after he was chosen unopposed by AMs at their first post-election plenary session on Wednesday.
Mr Jones promised to seek common ground with other parties in an attempt to avoid defeats in the Senedd, saying he was "fully aware of the arithmetic".
As Crown ministers, his ministers will also be formally appointed by the Queen before being sworn into office.
Mr Jones said: "I am honoured to serve the people of Wales as first minister and begin our ambitious programme to create a fairer, more prosperous country in these challenging times.
"I will shortly be announcing my cabinet team that will help deliver our vision for the people of Wales."
AMs chose Labour Newport West AM Rosemary Butler as presiding officer and Conservative South Wales Central AM David Melding as her deputy.
Mrs Butler takes over from Plaid Cymru Dwyfor Meirionnydd AM Lord Elis-Thomas, who had spent 12 years in the job.