Carwyn Jones to unveil assembly government ministers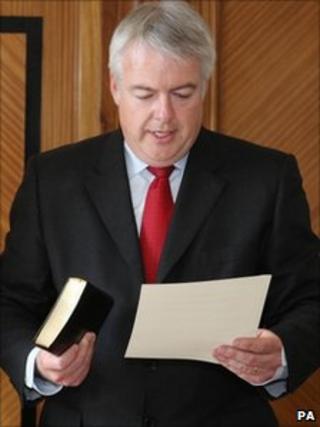 Carwyn Jones is expected to announce the line-up of ministers in the new Welsh Assembly Government on Friday.
He was re-appointed as first minister after leading Labour to victory in last week's assembly elections.
Mr Jones was sworn in on Thursday after being nominated unopposed by AMs the previous day.
He will choose from a Labour-only line-up, unlike the previous assembly government whose Cabinet contained three Plaid Cymru ministers.
The former environment minister Jane Davidson is also unavailable to him after she stood down as a Labour AM at the election.
With half the seats in Cardiff Bay, Labour has said it will continue to talk to the other parties in an attempt to avoid defeats in the Senedd.
Mr Jones took the oath of office in the presence of Mr Justice Lloyd Jones, the senior presiding Judge for Wales, at the assembly government's headquarters in central Cardiff.
He said: "I am honoured to serve the people of Wales as first minister and begin our ambitious programme to create a fairer, more prosperous country in these challenging times."
Mr Jones's appointment was rubber stamped by the Queen after he was re-instated at the assembly's first post-election plenary session.
The Welsh Labour leader's choice of up to 12 ministers and deputy ministers is subject to Royal approval.
He must also chose a Counsel General, the assembly government's chief law officer.
Former First Minister Rhodri Morgan told BBC Wales that choosing the cabinet was a "lonely process".
He said: "It's pretty lonely as it is just you and the special advisers and you can't have any cabinet members there if you don't know what job you're going to offer them."
He said he had no idea who was on the shortlist but it was about more than just a list of names.
"Carwyn may want to restructure the path of government and what each ministerial role is.
"It won't be the exact same jobs as before, let alone the people."