Carwyn Jones chairs first Welsh Labour cabinet meeting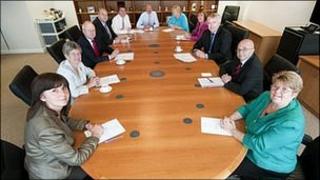 First Minister Carwyn Jones has chaired the first cabinet meeting of Labour's Welsh government.
His team of seven cabinet ministers, the chief whip and senior officials met at his office in Cardiff Bay on Tuesday.
Plaid Cymru said Mr Jones should publish a programme for his government, which is one seat short of an outright majority in the assembly.
Meanwhile, the Conservatives named a 13-member shadow cabinet.
Mr Jones was re-installed as first minister after leading Labour to victory at this month's election. He has pledged to continue talking to other parties after Labour missed out on the absolute majority it wanted.
The cabinet comprises of: Lesley Griffiths (health), Leighton Andrews (education), Carl Sargeant (local government), John Griffiths (environment), Edwina Hart (enterprise), Huw Lewis (housing, regeneration and heritage) and Jane Hutt (finance). Chief whip Janice Gregory also attends.
'Positive intent'
Plaid AM Simon Thomas said Labour should publish a government programme and "demonstrate their commitment to co-operation in order to get their plans through the Senedd".
"It would demonstrate a positive intent by the government if they initiated talks, particularly regarding finance as soon as possible," he said.
Also on Tuesday, interim Tory group leader Paul Davies named his shadow ministers.
All Conservative AMs were given a portfolio, except deputy presiding officer David Melding.
Tory group leadership candidate Nick Ramsay is shadow finance minister and the party's business manager, chief whip and shadow leader of the house. Leadership rival Andrew RT Davies will speak on business, enterprise and technology.
Mr Davies said the shadow cabinet drew upon the "immense skill and experience" within the group.
"As the official opposition in the assembly, it is very clear that we have a duty to hold this government to account and scrutinise its record of delivery.
"This shadow cabinet will provide the strongest possible voice in making sure that happens."
He also criticised Carwyn Jones' decision not to have a rural affairs minister at cabinet level, with North Wales AM Antoinette Sandbach, who has a family background in farming, being given the opposition brief.
"We do not agree with Labour's decision to demote this portfolio to a deputy ministerial position. The presence of a shadow rural affairs minister will make sure this area is given the strong voice it needs."