New S4C chair Huw Jones challenged by MP on audiences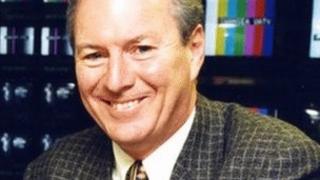 The man chosen by the UK government to be the next chair of S4C has been questioned by MPs at Westminster.
Huw Jones, a former chief executive of the channel, appeared before a joint hearing of the culture and Welsh affairs committees.
It is the first time a candidate for the post has undergone a pre-appointment hearing.
He was challenged over S4C's "pretty poor" viewing figures by culture committee chairman John Whittingdale.
Mr Whittingdale said the channel reached only a quarter of Welsh speakers for 15 minutes or more a week, and it needed to improve that performance "quite dramatically".
Mr Jones said he did not disagree but was cautious about the scale of the challenge because viewing opportunities and choice were increasing. He said the need for more "talked-about programmes" and "highlights" was real and important.
Mr Jones said viewing figures needed to take into account the role the Welsh language played in people's lives.
Both committees have criticised plans to fund S4C from the BBC licence fee amid fears it could jeopardise the channel's independence.
Mr Jones told the MPs: "A deal with the BBC is a practical necessity because otherwise the money for S4C to commission programmes from 2013 onwards isn't going to be there. I think that has been made pretty clear to us."
He said he would welcome the presence of a BBC Trust member on the S4C authority but the S4C executive should not be controlled by the BBC in any way and should be appointed by the S4C authority.
'Narrow field'
Mr Jones, a founder of Sain Records, was challenged over political independence, but said he had not been politically active for years.
Tory MP Alun Cairns criticised "destructive" members of the S4C Authority and asked how he could handle them. Mr Jones said he would treat people as he found them.
Mr Jones said one of his priorities would be to appoint a new chief executive after the sacking of Iona Jones last year.
Tom Watson asked: "Would it be fair to say, given the job requires a background in television, some strategic leadership in a management role and the ability to speak Welsh, there's a very narrow field of candidates who may be suitable for this job?"
Mr Jones: "That may be true, it doesn't necessarily mean that the quality is any less."
Labour MP Susan Elan Jones said the Welsh affairs committee had found that the audience for some S4C programmes, such as Pawb a'i Farn compared well with their English language equivalents. "We very much came to the conclusion that S4C was providing value-for-money".