Lib Dem disqualifications 'shambles' - Eleanor Burnham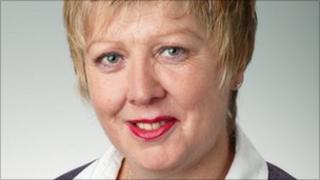 The Lib Dem Welsh assembly leader has been accused of presiding over a "complete shambles" by a former AM.
Kirsty Williams was criticised after party AMs Aled Roberts and John Dixon were forced to give up their seats for being members of public bodies to which AMs cannot belong.
Former North Wales AM Eleanor Burnham said her party's response in the impasse "looks like farce".
The Lib Dems said the priority was to see the AMs treated fairly and justly.
Three weeks ago, both men were forced to vacate their seats after it was discovered that they had stood for election while members of prohibited organisations.
South Wales Police are still investigating, but the Liberal Democrats have tabled two assembly motions to have them reinstated, which are due to be voted upon at the end of this month.
But Ms Burnham told S4C's CF99 programme that the decision not to allow the party's second place regional candidates to take up the vacant seats made her "worry about political representation in north Wales".
She said the whole affair "reflected badly on Kirsty Williams, the Assembly Commission and the Electoral Commission".
The Lib Dems have defended their leader, claiming that Ms Williams had "co-operated fully with every investigation - but her priority was to make sure that Aled Roberts and John Dixon were treated fairly and justly."
'Common sense'
Lib Dem spokesperson Myrddin Edwards told CF99 that the matter would be "sorted" once South Wales Police and if necessary the Crown Prosecution Service had completed their investigations.
As second place candidate on the North Wales regional list, Ms Burnham would regain her assembly seat if Aled Roberts was forced to step aside.
The former leader of Plaid Cymru, Dafydd Wigley - now Baron Wigley of Caernarfon - hopes "common sense emerges" when the assembly votes so the "hapless Lib Dems can take their seats".
"There is a saying that "rules are for the guidance of wise people and the obedience of fools'," he wrote in the Daily Post newspaper.
"The fiasco of blocking two Liberal Democrats surely falls into this category."
He said the "principle of disqualification should be reviewed" by the Electoral Commssion, adding that it should only apply for "deliberate conflicts of interest".
He also suggested membership of the "lesser body" should be automatically sacrified" when political candidates become AMs.