Welsh tuition fees: 'Support' for part-time students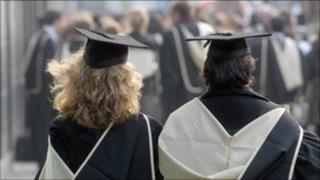 Part-time students in Wales are to be given the same fee support as those who study full time, the education minister says.
Under Leighton Andrews' proposals, higher education institutions (HEIs) could charge a maximum of £7,000 pro rata for a part-time course.
Mr Andrews said students would be entitled to a loan and grant to pay for up-front tuition fees.
NUS Wales cautiously welcomed the move, saying £7,000 was "still too high".
Mr Andrews says he aims to encourage more learners to enter higher education on a part-time basis.
Subject to an education bill being passed by the assembly, he said part-time students living in Wales would be entitled to a non-means-tested loan and grant to meet the up-front cost of their tuition fees.
In line with the support announced for full-time students, a loan would be available to cover a proportion of the fee and a grant from the Welsh Government would be available to cover the remaining cost.
The Welsh Government puts the number of part-time undergraduates in Wales at about 27,000.
Mr Andrews said: "These proposals represent a good deal for the Welsh HE sector and a fair solution for Welsh part-time students.
"The ability to charge higher fees for part-time courses will generate additional income for HEIs in Wales.
"At the same time, part-time learners will face no up-front costs in order to access higher education."
'Re-skilling'
Rob Humphreys, director of The Open University (OU) in Wales, said the policy would promote the flexibility, social justice and economic development that part-time higher education delivers for Wales.
Mr Humphreys said: "80% of OU students work whilst studying, contributing to the economy both through their taxes and their actions in retraining and re-skilling.
"It is right that they, and the four-in-ten of students in Wales that study part-time, have a similar level of support for the cost of learning as full-time students."
The National Union of Students (NUS) Wales said it had made a number of representations on the matter to both Mr Andrews and Welsh Government officials.
The union's president, Katie Dalton, said she would consider the detail of the proposals but said: "We welcome the news that many part-time students will no longer have to pay expensive up-front tuition fees and will instead be entitled to tuition fee loans and grants.
"This will make part-time study far more accessible to those who are currently shut out from higher education because of financial reasons or family responsibilities."
However, Ms Dalton added that the £7,000 tuition fee limit was "still far too high".