English Tories outnumber their Welsh counterparts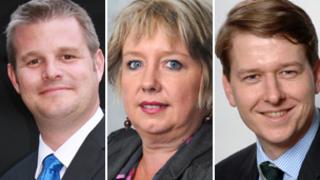 Will the last Welsh Tory MP please turn out the lights?
An outside observer could be forgiven for assuming that it's not the most sought-after gig in town.
Another Welsh Tory MP is leaving the select committee on Welsh affairs, the main Westminster forum for scrutinising policies as they affect Westminster.
Vale of Glamorgan MP Alun Cairns is concentrating on his work the public administration committee. He'll be replaced by Robin Walker, the Tory MP for Worcester.
It means the committee will have three English-based Tory MPs among its members - Stuart Andrew, Karen Lumley, and Mr Walker.
Only two of the eight Welsh Conservative MPs remain - chairman David Davies and Aberconwy's Guto Bebb.
Mr Walker is understood to have taken some persuasion to embark on his new role but he does come with a Welsh pedigree - of a sort.
His late father Peter was Secretary of State for Wales between 1987 and 1990.