Scheme for pupils has 'little impact', says Estyn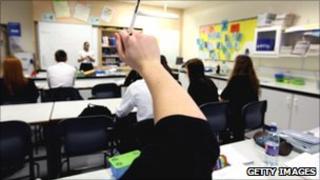 A £1m Welsh Government programme to boost pupils' thinking and assessment skills has had little impact on standards, says Estyn.
The schools inspectorate said the plan had raised confidence but found "little evidence" of better performance.
Piloted in 2005, the scheme has been rolled out across nearly all local authorities, involving 870 teachers.
The Welsh Government said it noted Estyn's comments on the need for more evidence on the impact on standards.
The 'developing thinking skills and assessment for learning' programme is aimed at supporting teachers in helping pupils how to learn, rather than what to learn.
Estyn's report on the scheme was commissioned by the Welsh Government to measure its impact on classroom practice and on pupils' performance and engagement.
In making its findings, the report looked at the outcomes of pupil assessments at age seven, 11 and 14.
Pupils' confidence
Estyn chief inspector Ann Keane said: "It is very difficult to attribute improvements in pupils' performance specifically to the impact of this programme."
Ms Keane said evidence showed that the programme had succeeded in boosting many teachers' and pupils' confidence.
"We have seen better lesson planning to develop pupils' thinking skills, with teachers using a wider range of teaching styles," she said.
But she added: "To be fully effective, the programme's techniques need to be applied in the context of a curriculum that is designed to develop pupils' skills progressively."
In the best lessons, according to Estyn, teachers involved in delivering the programme facilitate rather than direct learning. They speak less and focus on open questioning and on encouraging in-depth answers.
This approach stimulates pupils' critical thinking, analysis and problem solving skills.
Attitudes to learning
However, the report found there was still too much variation in the quality of teaching within and between the schools involved in the programme.
Inspectors also found that the programme was more developed in primary schools than in secondary schools.
In many of the primary schools visited, there had been improvements in pupils' attitudes to learning and in behaviour.
The interaction between pupils and adults had improved and pupils had become more willing to listen to the views of others.
But the report added: "Not enough has been done by schools, local authorities or the Welsh Assembly Government to evaluate the impact of the programme on pupils' standards, wellbeing or attitudes towards learning.
"The programme lacks clear expectations about its planned impact and does not provide enough guidance on evaluation."
Estyn's report made a number of recommendations, including that the Welsh Government should set clearer goals so its impact on standards and value for money could be evaluated.
In reponse, the Welsh Government said: "It is pleasing to see that the inspectorate has concluded that, as a result of the programme, there have been improvements in pupils' attitude to learning and the programme has changed the classroom practice of many of the teachers involved.
"As a result teachers have become more confident and creative in using a wider range of teaching styles.
"Although it is always difficult to isolate the impact of one initiative on pupil outcomes, we have already put in place plans to provide additional support for local authority advisers in working with schools to assess the impact of the programme."
The Welsh Government said the programme had been running in full for two years, during which time it had made £1.2m available to local authorities as a contribution to costs at a local level.