Brief Encounter: Edwina meets MPs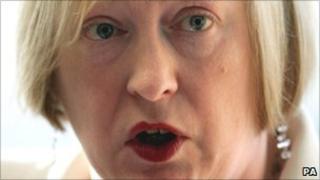 Of all the hotel restaurants in all of North Wales, she had to walk into his.
It was either an amazing coincidence or someone in Welsh politics has a mischievous sense of humour.
An official booked Welsh Business Minister Edwina Hart into the same Wrexham hotel as MPs on the select committee on Welsh affairs.
Yes, the same Edwina, and the same MPs, including David Davies, whose previous encounter with the Minister was celebrated for its pithiness.
Last night, MPs on the committee spotted Mrs Hart in the restaurant of the Ramada Hotel and invited her to join them.
She declined, apparently not wishing to put hotel staff to the inconvenience of moving a chair.
But that was not the last time their paths crossed. Oh no. This morning, as Mr Davies finished his breakfast, Mrs Hart arrived for hers (I am sadly unable to confirm whether muesli or the full Welsh).
He took the opportunity to repeat his offer to her to give evidence to the committee. "I pleaded with her," said the Monmouth MP, possibly tongue-in-cheek.
His pleading apparently fell on deaf ears, although the conversation lasted longer than their previous correspondence.
Mr Davies duly left with the MPs on a fact-finding mission, only to bump into Mrs Hart again this afternoon.
The MPs arrived at Glyndwr University just as the Minister was finishing an engagement there and having her photograph taken.
"If I'd persuaded her to stay on another half hour we could have taken evidence from her," said the committee chairman.
Mrs Hart may never appear before the MPs again, but they'll always have Wrexham.