Carwyn Jones pledges £10m help with enterprise zones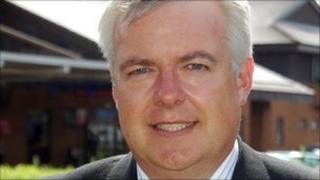 First Minister Carwyn Jones says using the Welsh Government's new law-making powers is not the way to help businesses and stimulate the economy.
He was reacting to criticism after outlining Labour's five-year legislative programme to assembly members on Tuesday.
Opposition parties say he could have done more to help businesses and regeneration projects.
Mr Jones pledged £10m help by creating themed enterprise zones across Wales.
He told BBC Radio Wales: "You don't create a better economy by imposing more regulation on businesses, which is what the Conservatives want to do.
"Laws are not the instrument to improve the economy."
Peter Black, Liberal Democrat AM for South Wales West and the party's business manager, said while historic for Wales to have a legislative programme, he was disappointed "big issues" were missed in helping create jobs.
And Conservative rural affairs spokesperson Antoinette Sandbach, AM for north Wales, said she was concerned there was no mention of jobs and enterprise.
"I want to see jobs here in Wales and flexibility and advantages that enterprise zones can have here in Wales," she said.
But Mr Jones hit back saying enterprise zones did not need a legislative bill.
"We can take decisions on enterprise zones now," he said.
"We are looking at creating enterprise zones that are themed so you have got a particular concentration of skills in a particular area of Wales."
He said in areas where there was no particular skills set, these could be created - such as "green jobs".
"What we want to do is use enterprise zones to support that," he said.
'Concentrated cleverly'
Mr Black said: "The UK government has started to bring forward some very interesting innovations which could help Wales quite well, particularly the enterprise zones.
"But, also, the use of business rates which giving back to local government allow them to borrow money against future income to regenerate areas - and that would require some legislation in Wales.
"And the Welsh Government did not even address the economy as part of this programme."
Mr Jones said zones created in the 80s in areas such as Swansea were partially successful, but he wanted to use new zones to create jobs and sustain them in the future.
He said the total amount of money available to Wales to create enterprise zones was £10m whereas Cardiff's central business district had just received £17m alone.
"£10m across the whole of Wales isn't a lot of money so it has to be concentrated cleverly," he said.
"I don't think it will work in England if they try to pepperpot [scatter] enterprise zones.
"It didn't work in the 80s and there is no reason why it should work now unless we are going to concentrate on particular skills in particular areas."
Bills on education, the organ donation system and allotments were also among 21 pieces of legislation, including a bill on food hygiene rating.