Prof Chris Gaskell to lead Welsh bovine TB review panel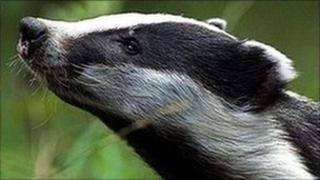 Wales' chief scientific adviser has named the expert who will chair an independent review of the evidence for eradicating bovine TB.
A west Wales badger cull was put on hold in June as it was announced a panel would examine the science behind the issue.
On Tuesday, Prof John Harries announced Prof Chris Gaskell will chair the panel to carry out the review.
It is not yet clear when the review will finish.
However, the panel will be asked to report their findings to the Environment Minister John Griffiths by the autumn.
Prof Gaskell will report the independent panel's findings directly to Prof Harries.
'Potentially devastating disease'
Commenting on the appointment, Prof Harries said: "Chris has a wealth of experience in the field. He is a vet and is a scientist of the highest integrity and distinction.
"I know he will lead a proper, thorough and objective review of the scientific evidence that exists on this complex, and potentially devastating disease.
"Chris is a member of the Science Advisory Council for Wales, which offers advice and challenge to me as Chief Scientific Adviser, across all science, technology, engineering and mathematics disciplines."
Prof Gaskell has been principal of the Royal Agricultural College since August 2007.
He says he will name the full panel as soon as possible.
'Slow procedure'
NFU Cymru president Ed Bailey welcomed the news after accusing the Welsh Government on Monday of a lack of action over the appointment of experts to review part of its bovine TB policy.
But he claimed the review procedure was still moving too slowly.
Speaking at the Royal Welsh Show in Powys, Mr Bailey said: "You must remember that it's a month since the review was announced and although I welcome the news of the appointment of Professor Gaskell, how long will farmers blighted by bovine TB have to wait for the results of this review?
"Naming the chairman is the first step and this could have been announced at the same time as the review a month ago. If that had happened the chairman could have been well on the way to choosing his panel of experts by now.
"You have to question whether all this has been a delaying tactic. It's something I put to the First Minister (on Monday) when I met him at the show. He said he wanted to tick all the boxes and make sure things are done properly."
The Department for Environment Food and Rural Affairs (Defra) confirmed a cull of badgers in parts of south west England as part of a programme, although not before next spring.
Ahead of the announcement, Mr Bailey said: "It'll be disappointing for us in Wales because we've been waiting so long for action, although this isn't a competition between the two countries."
Mr Jones rejected accusations by farmers and opposition parties of delaying tactics.
"It would have been very difficult to conduct a cull this year anyway," he told BBC Wales. "There's no doubt there would have been a legal challenge, that would have been taken us past a time when a cull was possible."