First north Wales meeting for Welsh Government cabinet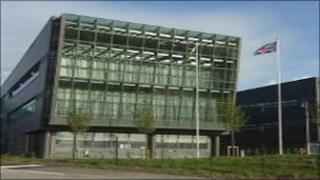 The Welsh Government has held a full cabinet meeting in north Wales for the first time.
Tuesday's meeting at the government's offices in Llandudno Junction marks the first anniversary of staff moving into the site.
First Minister Carwyn Jones said the meeting would not be a one-off and that ministers would hold other meetings outside Cardiff.
He said his government wanted a "significant presence" in the north.
It was built as part of a plan to move civil servants out of the Welsh Government's Cardiff headquarters.
Mr Jones opened the office for 650 staff last September.
Speaking ahead of the meeting, he said: "We are a government for the whole of Wales and it is only right that the business of government takes place across the country.
"This will not be a one-off and I also plan to hold cabinet meetings in the other locations across Wales in future."
He added that the Llandudno Junction office was a long-term investment that showed the government's commitment to have a significant presence in north Wales.
Ministers recently said they would keep jobs at smaller regional offices after a union warned about a threat of closure for offices at Newtown and Llandrindod Wells in Powys, and Caernarfon, Gwynedd.
The Welsh Government is considering a location strategy which the PCS warned earlier this month could see some offices close.
Plaid Cymru AM Alun Ffred Jones said the meeting in Llandudno Junction was an opportunity for the first minister to "rule out any changes to the staffing provisions at Caernarfon and other regional government offices".