London 2012: Boris Johnson aide rejects Wales complaint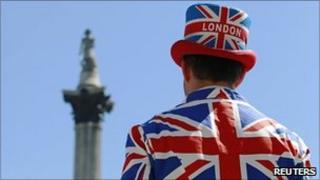 An aide to London mayor Boris Johnson says it is too late for Wales to complain that it will not host enough events during next year's Olympics.
First Minister Carwyn Jones has voiced disappointment that Wales does not have a bigger role in the 2012 games.
But Guto Harri queried whether Wales had done enough to attract events.
He said the days of complaining about what governments in London were doing to Wales had "long gone". The Welsh Government declined to comment.
With a year until the games start, Mr Jones has said he would have liked Wales to host more events than the 11 football matches to be played at Cardiff's Millennium Stadium.
He also expressed disappointment that Welsh businesses have not won more Olympic contracts. Of the £6bn of contracts awarded to British companies, an estimated £38m has gone to Welsh firms.
But Mr Harri, the Conservative mayor's Welsh communications director, said: "It's a bit late to complain that not enough has been distributed to Wales isn't it, because we have more or less settled these things for years.
"Did Carwyn, did the other people around him, do enough to offer Wales as a location for different things?"
Speaking on BBC Radio Cymru's Post Cyntaf, Mr Harri said he could easily imagine events such as mountain biking, sailing and canoeing being hosted in Wales.
"But did Welsh politicians make a proper pitch?
"Did Welsh business people make a pitch for the work that was available?"
He added: "You get nothing in life without asking for it. The days of sitting in Cardiff complaining about what governments in London are doing to Wales have long gone.
"Wales now has a medium to behave like an adult, not like a small child complaining.
"It's not the mayor of London's job to send jobs and agreements and work to Wales."