Labour mourns South Wales Valleys stalwart Ken Hopkins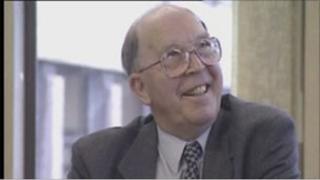 Tributes have been paid to a Welsh Labour party stalwart.
Former local education authority director Ken Hopkins was a life-long Labour member from the Rhondda who chaired the party in Wales.
He helped shape Labour's policy towards devolution before its landslide victory at the 1997 general election.
The father-of-one and grandfather, who leaves a widow Margaret, died after an illness on Saturday. He was 86.
Caerphilly MP Wayne David said Mr Hopkins was a convert to devolution who - after Wales voted No at the referendum of 1979 - was instrumental in shaping Labour's policy that led to the creation of the Welsh assembly.
"He was quite key in taking the Labour Party from effectively an opositionalist position to devolution, because the grass-roots never really supported devolution in 1979, certainly in the valleys," he said.
He remained an ardent opponent of nationalism and was "absolutely horrified" when Plaid Cymru won his local seat at the first assembly elections of 1999, Mr David said.
'Fight back'
Rhondda Labour Party secretary Kevin Morgan, a pupil of Mr Hopkins's when he was headmaster of Ferndale Grammar School, said: "He was absolutely devastated, but what was typical of him was he was there for the Labour Party in good times and bad times, and when there were bad times he led the fight back."
He was twice secretary of Rhondda Labour Party and was Welsh Labour chairman in 1991/92. He served on the party's Welsh and UK policy forums.
After teaching he became director of education for Mid-Glamorgan.
Friends say he continued to take an interest in policy, publishing a pamphlet in 2006 calling for government action to boost Welsh-language education.
Rhondda AM Leighton Andrews, who regained the seat for Labour in 1999, remembered a "party man who worked hard behind the scenes", adding: "He was passionate about education and passionate about enabling more people to move into education."
Writing on the social networking website Face book, where well-wishers left tributes, Rhondda MP Chris Bryant, said the party had lost a "loyal and committed member".
"It is not just the Rhondda Labour Party or indeed the wider labour movement that will miss him but his friends, neighbours, former pupils and colleagues," he said.