AM warns house building would strain Welsh language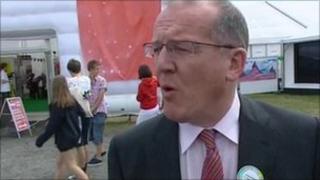 The Welsh language could be put under pressure if too many homes are built in north east Wales, an AM has said.
Liberal Democrat Aled Roberts asked whether it was fair for the region to assume the burden of providing housing to protect Cheshire's green belt.
Speaking at the National Eisteddfod in Wrexham, he said it was not clear the area's infrastructure could cope with the additional development.
Politicians have not accepted sufficient responsibility, he said.
He said it was time to re-consider the effects of creating a "cross-border sub-region" of north-east Wales and north-west England which sets the framework in which councils and the Welsh Government operate.
Speaking in a lecture organised by the Institute of Welsh Affairs, he said people in the area were not in favour of continuing with the pace of development seen over the last 20 years.
Mr Roberts, former leader of Wrexham council, said: "I think we have to question whether our infrastructure can cope.
"There are issues, such as schools etc, which are not put fully into the planning process.
"There are also, with quite a lot of these new developments, questions regarding services within the areas which are placed under strain."
He added: "But we also have to accept as well that - although I think the situation is sustainable as far as our Welsh identity is concerned - it does actually feed into the whole issue regarding the future of the language in this particular area.
"And it's something that needs to be borne in mind and at the moment I think there's a danger that we pay lip service because of the creation of this sub-region."