Welsh CHCs in Welsh Language Board translation cost row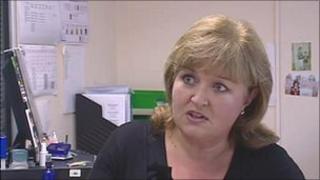 NHS watchdogs have warned they might be unable to do their job properly due to the cost of having to translate all their documents into Welsh.
Wales' Community Health Councils (CHCs) said their requirements under the Welsh Language Act were "unrealistic".
Director Carol Davies said the CHCs backed bilingualism and would do their best within existing funds.
The Welsh Language Board would not comment, saying its agreements on bilingualism were "confidential".
The Board of CHCs in Wales raised serious concerns about what it called "very unrealistic targets" for translation of documents.
In order to fully comply with the Welsh Language Act, CHCs, along with other public bodies, are required to aim to translate all documents - internal and external - into Welsh.
Ms Davies said the CHCs had been working with the Welsh Language Board for the last year or so to ensure that they improved their Welsh language schemes and to ensure that they adhered to a fully bilingual agenda.
She said: "The question now is whether we can, as is asked of us, translate all our documents - those are the internal documents and the public ones - into Welsh?
"Because if we do the effect is that we will be unable to complete our statutory duties in complying with our legislation to monitor effectively the work of the NHS in Wales."
Ms Davies said the Welsh Language Board had been "very amenable" and had listened to concerns.
But she added: "The issue is that we have so little funding, that if we were to comply fully [with the Welsh Language Act], something would have to be lost in terms of our statutory duties in monitoring the NHS.
"We do our level best in ensuring that everything is translated that needs to be in the public domain.
'Very frugal funds'
"But where we have concerns is that if we are to do every single item of documentation into Welsh, it will have an adverse affect on our very frugal funds that we have in monitoring the NHS in Wales."
Ms Davies added that she would be letting the Welsh health minister know that the CHCs needed additional funding if they were to produce every single one of its documents in a bilingual format.
The Welsh Language Board was unable to respond, saying that its code of practice under the Welsh Language Act 1993 meant that drafting and agreeing on a bilingual policy was a private and confidential matter between the board and individual bodies.
The Welsh Government said the preparation of language strategies was a matter for the Welsh Language Board.
"The Welsh Language Act sets out a clear statutory process to be followed when preparing and approving Welsh language strategies," said a spokesperson.
"If a public body and the board fail to come to an agreement on preparing or amending a strategy, then the board or the body can refer the matter to Welsh ministers.
"Because of the statutory role of Welsh ministers in relation to approving Welsh language strategies it would be inappropriate to comment further at this stage."