Lord Carlile says coalition 'to suffer over riots'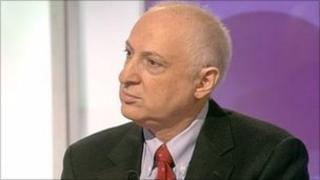 A Liberal Democrat peer says he expects disagreements over the sentencing of rioters to cause difficulties for the UK coalition government.
Lord Carlile said Conservatives and Lib Dems would fall out over the issue.
The barrister and President of the Howard League for Penal Reform told BBC Wales party members had different views on criminal justice.
He said some ministers and politicians were grandstanding over sentencing and should not interfere with the courts.
'Grandstanding'
The prison population is rising by more than 100 people a day as courts deal with cases of rioting and looting, Ministry of Justice figures show.
Prime Minister David Cameron has defended courts for handing out "tough" sentences for those involved in the riots across England.
Speaking to the BBC Wales politics programme Sunday Supplement, Lord Carlile, a former MP for Montgomeryshire, said: "I think the coalition is going to suffer difficulties as a result of this riots issue because their DNA is different on criminal justice.
"I think there's been an awful lot of grandstanding about what should happen to rioters.
"I think ministers and others would be well advised to leave sentencing to the very experienced criminal judges and magistrates around the country."
'Evict'
So far almost 3,000 people have been arrested in connection with the riots earlier this month.
A petition signed by more than 200,000 has been submitted to the government demanding convicted rioters lose their social security benefit.
Lord Carlile said: "There is absolutely no doubt that the riot situation calls for severer sentences.
"Withdrawing benefits from people who are not serving sentences and evicting them from their homes is just creating another set of social problems and it's actually going to cost the state a great deal of money.
"It is, in my view, unlawful for a council to evict someone because councils do not have the power to impose punishment for criminal offences."