Welsh Government seeks new masseurs for civil servants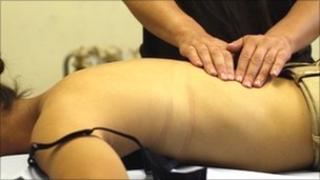 The Welsh Government is looking for new massage and complementary therapists to "de-stress" workers.
Taxpayers' money will not be used as workers have to pay for treatment costing about £6.
The Welsh Government, which employs about 5,500 staff at nine offices, said it was committed to their well-being.
An advert says it wants to continue to provide staff with complementary therapies in addition to occupational health and counselling services.
Private sector businesses also provide similar services for workers - some free - like the Admiral insurance company in Cardiff, which brings in sports therapists and provides other therapies as well as free fruit.
"If people are feeling relaxed they are more productive and that benefits everybody," said spokeswoman Louisa Scadden.
The company brings in a massage therapist once at month at all its offices.
"Our staff really appreciate that and it does help," she told BBC Radio Wales. "We are really keen to encourage it."
Practitioner Natasha Marchant, who runs Gia lifestyle centre in Cardiff, said it was believed a massage could improve productivity in the workplace, reducing people's stress levels.
A Welsh Government spokesperson said: "The Welsh Government is committed to ensuring the wellbeing of our employees, developing best practice in the provision of a range of services for staff.
"We wish to continue to provide access to staff to complementary therapies to assist our existing occupational health and counselling services, but we emphasise that this service is funded at the employees' own cost."
Officials have placed an advert for tenders, explaining that the current contract for a de-stress massage service expires later this month.