Estyn calls for more outdoor learning in Welsh schools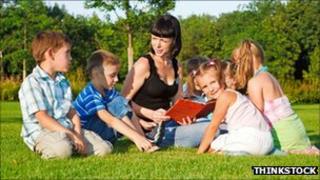 Schools in Wales have been urged to take greater advantage of the benefits of teaching young children outdoors.
Schools inspectorate Estyn said children under five learn better and develop quicker with outdoor lessons.
Its report said Foundation Phase teachers were not using outdoor opportunities enough to develop children's reading and writing, Welsh language, creativity or ICT skills.
NUT Cymru expressed surprise, saying its members had embraced the concept.
The Foundation Phase, the Welsh Government's flagship early years scheme, has been gradually expanded to different age groups since 2008.
Borrowed largely from Scandinavia, the idea is to free children to learn not by rote but through play.
It allows them to use their initiative and relies for its success on a ratio of one adult to every eight children.
From September it will be taught to all children aged three to seven in local authority and church schools and nurseries.
In the report Estyn's inspectors evaluated the impact of outdoor learning - a key part of the scheme.
The report said the experience generally improved children's wellbeing, behaviour, physical development, knowledge and understanding of the world.
"In most cases, children enjoy learning outdoors, persevering with tasks for longer periods and showing more enthusiasm for attempting new things," it said.
'Greater opportunities'
Estyn inspector Bev Jenkins said: "There are examples of children who are quiet and reserved indoors who come into their own outdoors. They feel freer, less constrained."
Ms Jenkins said outdoor learning offered greater opportunities for the use of equipment and resources that could not be used indoors.
She added: "Sometimes young boys won't go into a reading corner indoors, however nice it is, but when presented with a book in an outdoor environment will be more willing to pick it up and read."
In its report Estyn found that outdoor learning experiences were rated good or better in two-thirds of the sessions its inspectors observed.
But it also found that teachers/nursery school staff were not as effective at assessing outdoor learning as for indoor learning.
Ann Keane, the chief inspector, said: "Practitioners need be more creative and confident in using the outdoors to develop children's knowledge and skills in all the areas of learning".
David Evans of NUT Cymru said the report's findings came as "a bit of a surprise".
"All the feedback that we have had from our members in the Foundation Phase is that they have been working towards this," he said.
"They were very enthusiastic about the Foundation Phase, about adult-pupil ratios. They saw it as a revolutionary way of teaching young children. They were looking forward to it and very enthusiastic."
Mr Evans added: "There were some difficulties at the outset. Insufficient resources had been put in to allow them to set up appropriate outdoor areas. I wonder if that might be part of the problem."
In response to this the Welsh Local Government Association (WLGA) said it was committed to delivering the Foundation Phase fully.
A spokesperson said: "The WLGA will consider the findings of the Estyn report in detail and will work with Estyn and other partners to address any concerns."
The Welsh Government welcomed the report, saying it wanted the Foundation Phase to take advantage of Wales' "fantastic outdoors".
A spokesman said existing guidance to schools and nurseries on the effectiveness and benefits of outdoors learning would be boosted.