Ex-Plaid Cymru AM Helen Mary Jones' job hunt difficulty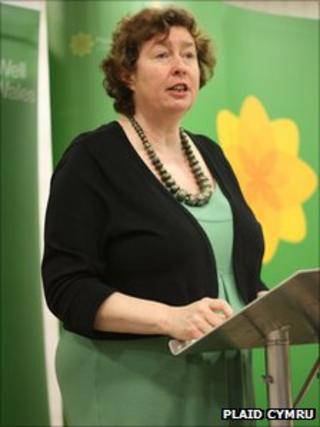 A former Plaid Cymru AM has spoken of the realities of job hunting after the "shock" of losing her seat in May.
Helen Mary Jones is now setting her sights on a different role within the party as it holds its annual conference in Llandudno.
She will this weekend run for the post of her party's national chair, but has not decided whether to return to front-line politics.
Ms Jones was previously Plaid's deputy leader in Cardiff Bay.
The party's delegates are gathering for their annual conference as Plaid tries to pick itself up from a disappointing assembly election.
Ms Jones has had a testing few months too and followers of her Twitter feed will have read the latest developments in her job hunt over the summer.
The former Llanelli assembly member, who lost out to Labour in May's election, is now among thousands facing a difficult job market.
She said she signed on for Jobseeker's Allowance with a "heavy heart", but was quickly brought down to earth when she saw others out of work in worse situations than hers.
Ms Jones, 51, said: "Anybody out of work is anxious and if you're a single parent you're more anxious.
"I went to sign on with a heavy heart, but it puts what happened to me into perspective."
She added: "You just think, 'Pull yourself together Jones'."
She said she wanted to turn her back on politics in the days after the election result, but was persuaded to change her mind by friends, including Plaid AM Leanne Wood.
However, she is undecided about whether she will try to return as a front-line elected politician.
She said: "I honestly don't know. People keep stopping me and saying you will be back. I think, 'Will I?'.
"I'm currently looking for another job. I hope it's a job where I can make a difference. Bottom line is it needs to be paying money to keep myself and my daughter."
Losing a majority of nearly 4,000 was a "big shock", said Ms Jones, who served as an assembly member from the first assembly election in 1999.
'Toxic' Conservatives
"The simple message from Labour was, 'If you vote for Helen Mary you could end up with Tories in government in Wales'," she said.
"That was unanswerable."
At this weekend's Plaid conference in Llandudno, she hopes to be elected as party chair. She is up against incumbent Ellen ap Gwynn.
Ms Jones - one of four Plaid AMs who opposed a coalition deal involving the Tories after the 2007 election - will call on the party to rule out future coalition deals with the Conservatives.
Her party will never overtake Labour if opponents can claim that Plaid is willing to side with the "toxic" Conservatives in the Senedd, she said.
'Frightens voters'
Plaid could "win every single seat in north and west Wales, we could even win Brecon and Radnor, but unless we win the Valleys we still don't have a majority", she said.
She will also argue the party should be more upfront about its long-term aim of an independent Wales within the EU.
Instead of confronting questions about its ambitions for Wales outside the UK, as the Scottish nationalists have done, "we have managed to end up looking shifty about it" having been told the idea "frightens voters".
"I don't think we have been dishonest, I just think the way we have presented it has risked looking as if we don't want to talk about it," she said.