'Reach out' call to Plaid Cymru from Elin Jones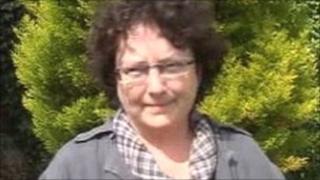 A contender for the leadership of Plaid Cymru has urged the party's annual conference to "reach out" to a wider section of the population of Wales.
Ceredigion AM Elin Jones told delegates in Llandudno it is time to "open our doors to more people and challenge our comfort zones".
Ms Jones said that the party had "stagnated of late" and that they had failed to motivate themselves.
Ieuan Wyn Jones is stepping down as party leader next year.
Ms Jones told delegates that Wales "needs to be more than somebody else's afterthought".
In a speech containing numerous references to the word "independence", Ms Jones called for a "constitutional and fiscal debate within the four countries of the UK" and "between the four countries" because "the constitutional imbalance" of the UK was "unsustainable".
A possible yes vote for Scottish independence, she said, would change the UK "irrevocably".
'Not one glorious step'
But Ms Jones, the party's communications director, said it was the people of Wales who would decide Wales' constitutional future.
"It is not one glorious step for independence - otherwise it would be a hell of a big step," she said.
"We can't just jump to the final chapter because the people of Wales still want to read the book."
Dwyfor Meirionnydd assembly member and former party president Dafydd Elis-Thomas has also confirmed his intention to run for the Plaid leadership when the contest opens early next year.
Ieuan Wyn Jones gave his last conference speech as leader on Friday.
Later, delegates voted to commit the party explicitly to "secure independence for Wales in Europe" in Plaid Cymru's constitution.
The conference also discussed motions on nuclear and renewable energy, housing and independence for Wales.
Delegates will also be addressed by Plaid's parliamentary leader, Elfyn Llwyd, president Jill Evans, chief executive Rhuanedd Richards and former leader Dafydd Wigley.