Helen Mary Jones denies sister's Facebook benefit claim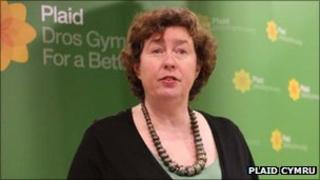 A former member of the Welsh assembly has denied Facebook allegations by her sister that she sought unemployment benefit while owning three homes.
Comic writer Myfanwy Alexander said it was a disgrace that new Plaid Cymru chair Helen Mary Jones had signed on.
Ms Jones said she registered for jobseeker's allowance after losing her seat in May, but had not had any benefit and did not expect to.
She denied she owned three properties, but declined to comment further.
She added that she was "not going to discuss family matters in public" after her sister, who lives near Welshpool, Powys, published comments on Facebook.
Ms Alexander is a writer and broadcaster whose work includes scripting The Ll Files on BBC Radio Wales, and as a a team member on Radio 4's Round Britain Quiz.
Ms Jones - who had been an AM since devolution began in 1999 - was previously Plaid's deputy leader in Cardiff Bay.
The former Llanelli AM, who lost her seat to Labour, is now among thousands facing a difficult job market.
'Heavy heart'
She lives in Cardiff and still owns her former constituency home.
In an interview with the BBC Wales News website last week, she told how she had registered as unemployed.
She said in that interview the experience quickly brought her down to earth when she saw other people out of work in worse situations than hers.
Ms Jones, 51, said at the time: "Anybody out of work is anxious and if you're a single parent you're more anxious.
"I went to sign on with a heavy heart, but it puts what happened to me into perspective."
She added: "You just think, 'Pull yourself together Jones'."
She was elected as Plaid chair at the party's annual conference in Llandudno at the weekend.