Thatcher legacy hampers Welsh Tories - David Melding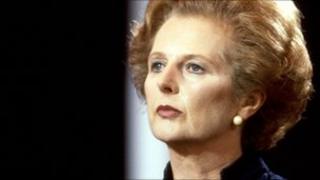 The legacy of the Thatcher government is stopping people voting Conservative in Wales, says a leading Tory who wants the party in Wales to change its name.
David Melding says his party still carry "a lot of baggage" from the 1980s and the decline of the coal industry.
He said Welsh Tories should consider both a change of name and a push for greater autonomy from the UK party.
But assembly Tory leader Andrew RT Davies said the party belongs "within the Conservative family of the UK".
The Scottish Conservative Party recently approved a new constitution, and one leadership hopeful, Murdo Fraser, has also suggested that the party there should rebrand itself.
In his article on the Wales Home website South Wales Central AM Mr Melding, who is the assembly's deputy presiding officer, says change was needed in Wales, despite a good showing in May's assembly election which saw the Conservatives become the second largest party, ahead of Plaid Cymru.
He wrote: "I believe greater autonomy is essential for the Welsh Conservative Party's further success and a name change is a desirable option. Above all the people of Wales need a viable alternative to Labour.
"That alternative is likely to emerge in the course of the fourth assembly and Wales will be a stronger democracy as a result. But it is far from certain whether Plaid or the Welsh Conservative Party will lead the process."
He also suggests that a more "Welsh" Conservative party would not have undertaken as rapid a programme of pit closures as took place during the 1980s.
Mr Melding told BBC Radio Wales: "We have a very distinct image at the moment which I think is a party that has adapted to devolution but still has a lot of baggage.
"When you are campaigning people raise the issue of Mrs Thatcher's 10 years in office.
He said he was an admirer of Mrs Thatcher but added: "Many people say to us they could never vote Conservative.
"About twice as many people say that of the Conservative Party as any other party in Wales and we have to look at that and ask ourselves is there anything we can do?"
The party's former leader in the assembly, Nick Bourne, recently revealed he had turned down an idea from Mr Melding to change the party's name to Ymlaen - Welsh for "forward" - some years ago.
Other Conservatives in Wales have called for a similar debate, with the group leader on Swansea council, Rene Kinzett, urging the party to become independent of Tories in the rest of the UK.
Mr Davies, who was recently elected the Welsh assembly Tory group leader, said: "David is a well-respected member of the Welsh Conservative group in the assembly and it is only right that his views should be recognised.
"The Welsh Conservative Party enjoys a broad base of support across Wales and is represented at every level of government.
"We are proud of our Welsh roots, have policy-making autonomy, our own Welsh chair, Welsh board and director.
"I believe our place is firmly within the Conservative family of the UK; something that voters have endorsed time and time again.
"As Welsh Conservatives, we will always make the people of Wales our number one priority."